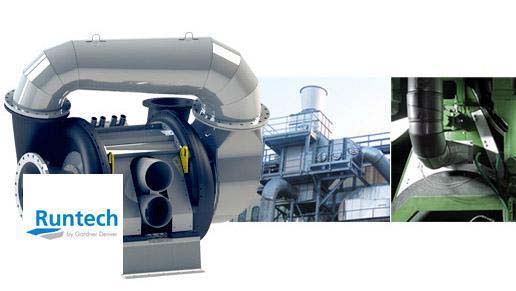 Runtech is a global provider of engineered systems tailored to the pulp and paper industries. Runtech works with customers to better understand and control their operational conditions to maximize efficiency and cost effectiveness. Runtechꞌs patented solutions include vacuum system and heat recovery optimization, runnability optimization with web stabilizers, press and forming section dewatering and doctoring optimization, forming and dryer section cleanliness systems, as well as ropeless tail threading.
Runtech is part of Gardner Denver, Inc., a leading global manufacturer of highly engineered products. Gardner Denver is headquartered in Milwaukee, Wisconsin, USA and has facilities in more than 30 countries. To learn more about Gardner Denver, Inc., please visit www.gardnerdenver.com.
We are now expanding our group of expertise by hiring a
Marketing Manager to our Runtech Systems team
As a Marketing Manager you will be responsible of managing, developing and maintaining widely Runtech Marketing activities locally and globally. You will co-operate closely with our Sales Director & Sales Teams in Finland and all over the Europe.
The person we are looking for has excellent social skills combined with an ambitious attitude and great business intelligent. We appreciate a well-organized way of working and a strong ability to handle pressure and meet deadlines. Network building on many levels across the organization as well as outside the organization is essential.
Responsibilities and duties:
Work closely with the Demand Generation team to determine product priorities and initiatives.
Distil key functionality and features of the product into compelling marketing assets and advertising possibilities.
Plan the launch of new releases and lead and manage the cross-functional team to execute the plan.
Communicate with sales team to coordinate joint marketing/sales activities.
Work across company marketing to manage online marketing campaigns.
Continuously monitor the market to identify new opportunities and gain competitive advantages.
Collaborate with external partners such as agencies and technical writers to ensure they deliver high-quality product-related content and layouts.
Prepare public appearances such as exhibitions at trade shows, customer visits and training sessions.
Manage the marketing budget and allocate the capital efficiently
Analyse data from campaigns and business processes and make recommendations for process changes and future campaign adjustments.
Project management and process documentation.
Qualifications:
BA or BS degree in Business or technically related field.
5+ year's proven experience designing and developing effective marketing campaigns in the industrial space over multiple geographies and verticals on either the client or agency side.
Digital marketing experience with web, email, SEO, SEA.
Offline experience with trade shows, technical seminars, and industry publications.
Successful project management experience
Proven effectiveness in working with other associates in a global cross-functional team
Capability to analyze and evaluate complex business processes
High degree of independence and self-initiative
Good time management and working structure
Fluent business English language skills mandatory; other language skills a plus
We provide an independent and responsible role in an internationally successful company. The company invests in its personnel by improving well-being and job versatility. Salary and employee benefits are naturally on a competitive level.
Your working location could be almost everywhere in Finland – you can work from your home office and visit our main office in Kotka every now and then. We require ability to travel approximately 25% of your total working time.
How to apply:
This recruitment process is led by Suomen Henkilöstötalo. Please send your application along with your salary request by 24th of April 2019 via Suomen Henkilöstötaloꞌs web page https://henkilostotalo.likeit.fi/jsp/duuni/Application.jsp?id=0&register=1&advertId=18124606 .
Applications will be processed on a daily base and the position will be filled as soon as the right candidate is found.
For more detailed information, please contact: Recruitment Manager Terhi Wallenius tel. +358 10 2306 525 / terhi.wallenius@henkilostotalo.fi