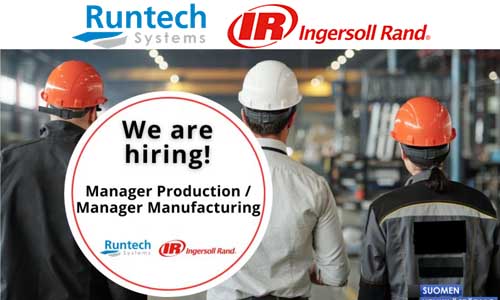 Runtech Systems develops, designs and supplies equipment to the pulp and paper industry. Hundreds of paper, tissue, board and pulp mills benefit from our dewatering meters, vacuum systems, tail threading equipment and doctoring solutions. Years of hands-on papermaking knowhow differentiates Runtech from traditional hardware suppliers. Our integrated solutions result in significant operational cost savings, improved machine runnability and product quality. Today Runtech is a part of global Ingersoll Rand corporation.
Runtech Systems is looking for a MANAGER PRODUCTION / MANAGER MANUFACTURING. You will be responsible for our production unit in Kotka.
You will be a key player in Runtech's Kotka team taking care of all production related topics from production day-to-day support to developing our ways working and people. You will lead the production according to our business targets – financial, operational, quality and safety. Safety, continuous improvement, process development and overall productivity development are integral parts of your main responsibilities. In addition you will develop our order-to-delivery process in collaboration with customer service, procurement and production/material planning and act as Kotka site safety manager.
Qualifications and key competencies:
BSc or MSc in manufacturing engineering, industrial engineering, or any relevant degree
5+ years of supervisory or management experience
Capability to improve productivity and run different types of improvement projects
Proactive and customer-oriented mind-set, strong problem solving and communication skills
Strong knowledge of 5S lean tools
Fluent Finnish and English (verbal and written)
Excellent IT skills
We offer you challenging and interesting position in a good working environment where your success is supported. High-quality and valued products and the opportunity for continuous development in an international company, in addition to a competitive salary, will contribute to your job satisfaction. Runtech Systems enables career development and takes care of their employees' well-being in many ways.
Interested?  For further information, please contact Suomen Henkilöstötalo´s Karoliina Lakkala tel. +35810 2306 534 / karoliina.lakkala@henkilostotalo.fi on weekdays 9am to 4pm. If you want to join Runtech Systems team, please apply via Suomen Henkilöstötalo's web page. Please leave your resume and salary request as soon as possible but latest by 7, Obtober, 2022. We will start interviewing candidates already during the process.
You can also apply in Finnish.
Know someone who would need new challenges on their career path? There are several jobs open through us with a tip bonus attached. Check out the open tip reward places here.
Suomen Henkilöstötalo is a recruitment expert company founded in 2008 that operates throughout Finland and serves both employers and jobseekers. Our offices are in Turku, Helsinki, and Tampere. Our operations are guided by closeness to people, quality, reliability, and openness. Our employees and customers are at the center of our operations, which is why we take great care of them and invest in every encounter!
Read more about us on our website.
Like us on Facebook!
Kotka
Teollisuus/tuotanto
Rekrytoinnit
25667720