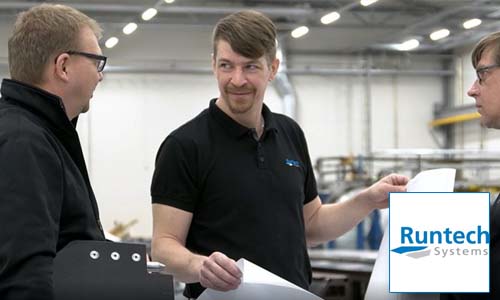 Ingersoll Rand is committed to achieving workforce diversity reflective of our communities. We are an equal opportunity employer. All qualified applicants will receive consideration for employment without regard to age, ancestry, color, family or medical care leave, gender identity or expression, genetic information, marital status, medical condition, national origin, physical or mental disability, political affiliation, protected veteran status, race, religion, sex (including pregnancy), sexual orientation, or any other characteristic protected by applicable laws, regulations and ordinances.
Runtech Systems is a global provider of engineered systems tailored to the pulp and paper industries. Runtech works with customers to better understand and control their operational conditions to maximize efficiency and cost effectiveness. Runtech's patented solutions include energy efficient vacuum system and heat recovery optimization, runnability optimization, dewatering, doctoring and cleanliness optimization as well as ropeless tail threading.
We are looking for a PROJECT MANAGER for our project team in Kotka, Finland.
As our Project Manager, you will manage the EP Turbo project deliveries. You will need to be self-oriented and have good communication skills with a problem-solving work style. Our Project Manager takes part in the project execution from the beginning of the project all the way to the final approval of the complex system deliveries to the end customer. You will work together with project designers, and commissioning and start-up technicians.
Your responsibilities include:

Project planning and scheduling including resource planning and budgeting
Identifying, analyzing and addressing project risks
Monitoring project implementation to ensure best practices in technical solution, cost control, resource efficiency, risk management, and health, safety and the environment
Project documentation management, project reporting, and managing that the KPIs are met
Utilize industry best practices, techniques, and standards throughout the entire project execution
Continuously develop the project management and -control processes and the way of working
You will exceed in this role with:

A Bachelor's or Master's degree in Engineering, Business or related field
5+ years' experience in project management
Leadership experience
Knowledge of project management tools and best practices
Ability to deliver results in project environment with tight schedules
Understanding the projects' full life cycle
Excellent analytical skills
Change management experience, networking skills, ability to work in a global environment
A commercial mindset, goal orientation and customer-focus
Proven ability to complete projects according to outlined scope, budget, and timeline
Do you match the description of this role? You could be our new Project Manager!
For more information about the role, please contact hiring manager Juho-Ville Vuolahti (Project Group Team Leader) tel. + 358 40 821 0191 on April 5th at 12-13 EET, April 12th at 12-13 EET, or on April 19th at 12-13 EET.Send in your application with your CV as soon as possible, latest April 23rd, 2023. Please note that we will proceed with the recruitment process during this time.
Ingersoll Rand Inc. (NYSE:IR), driven by an entrepreneurial spirit and ownership mindset, is dedicated to helping make life better for our employees, customers and communities. Customers lean on us for our technology-driven excellence in mission-critical flow creation and industrial solutions across 40+ respected brands where our products and services excel in the most complex and harsh conditions. Our employees develop customers for life through their daily commitment to expertise, productivity and efficiency. For more information, visit www.IRCO.com.