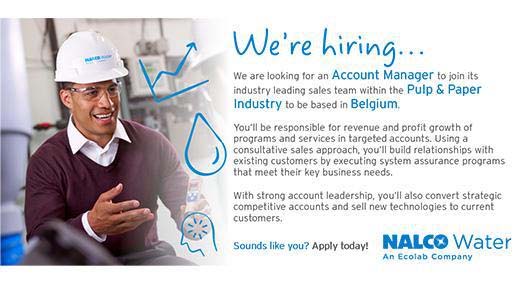 Job ID:
R00073641
Category:
Sales
Work Location:
Groot-Bijgaarden
,
Flanders
Posted Date:
February 6, 2019                                       
Nalco Water, an Ecolab Company, seeks an Account Manager to join its industry leading sales team.  You will be responsible for revenue and profit growth of programs and services in targeted accounts. Using a consultative sales approach, you'll build relationships with existing customers by executing system assurance programs that meet their key business needs. With strong account leadership, you'll also convert strategic competitive accounts and sell new technologies to current customers.
What's in it For You:
You will join a company offering a competitive base salary, bonus structure and benefits.
A company vehicle.
A long term, advancing career path in service, sales or management.
Access to the industry's most innovative training programs.
Support from a dedicated technical service team.
A culture that values safety first, including training and personal protection.
Pride in working for a company that provides clean water, safe food, abundant energy and healthy environments
What You Will Do:
Generate and execute sales plans in existing customer base and in assigned competitively-held accounts, to meet profit increase goals.
Work closely with current and prospective customers to understand business needs and recommend continuous improvement and innovation plans that will maintain and grow sales.
Develop strong relationships with key stakeholders within current and prospective customers, including plant or facility executives.
Provide technical support to customers; identifying and resolving customer challenges, escalating as required.
Engage in problem solving by performing system analysis, interpreting data and providing written recommendations to ensure customer operations are performing at optimal levels
Actively sell and support Nalco Water innovations and technology in assigned customers to promote long-term business relationships with Nalco Water.
As a trusted partner, your customers will rely on you for their success.  Nalco Water is committed to seeing you succeed and provides innovative training programs to ensure you're prepared to solve any customer problem.
Preferred Qualifications:
University degree in Engineering (Chemical, Mechanical, Industrial), or Life Sciences (Biology, Chemistry, etc.)
5+ years of successful technical sales or field sales support experience.
5+ years of experience directly related to well service stimulation business preferred.
Water treatment or specialty chemical industry experience is an asset.
Working knowledge of industry process, boilers, cooling towers, and wastewater treatment systems is an asset.
High computer application literacy (including Microsoft Office Suite, and ability to learn internal business systems).
History of working in a field that required autonomy and self-motivation.
Prior experience that required excellent communication skills.
Prior experience that required excellent organizational skills.
Account leadership experience that includes calling on multilevel plant or facilities management to accomplish company goals.
Prior experience that demonstrates a strong work ethic and ability to multitask.
French – native and an excellent command of English. Knowledge of Dutch is an asset.
About Nalco Water:
In a world with increasing water shortage and contamination challenges, Nalco Water, an Ecolab company, helps customers conserve more than 161 billion gallons of water each year. We work with customers across the world in the light industry (institutional, food & beverage, transportation and manufacturing), heavy industry (chemical, power and primary metals industries), paper and mining operations to reduce, reuse, and recycle their water while protecting their systems and equipment. Nalco Water provides the unique opportunity to work with a broad suite of technologies to deliver automated monitoring systems, data analysis and deep technical expertise to increase efficiency, sustainability and performance for our customers.