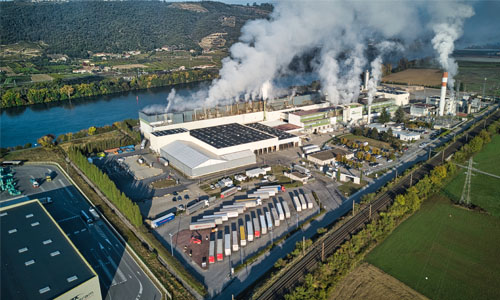 Saica will invest €117 million over the next two years in its French site in Champblain-Laveyron (Drôme department). On the one hand, by the end of 2022, €75 million will be used to build a biomass boiler.
This investment is one of the 21 new decarbonisation projects (call for "biomass heat" projects) announced at the beginning of April and supported under the "France Relance" Plan. At a cost of €30m, the pulp preparation of the two paper machines will also be improved. Lastly, the storage of raw materials (Recovered Papers & Cartons) will be secured and modernised, thanks to a budget of €12m.
« After being selected in 2019 as part of the Ademe's BCIAT call for tenders, our paper mill will build a new biomass boiler with a capacity of 73.4 MW », explains Francis Michel, the mill's director. This equipment will be fuelled, for 70%, by category "B" wood and, for the remaining 30%, by the refuse from our pulpers. »
This plant will replace natural gas (fossil fuel) steam production and will produce over 450 GWh of steam per year. It will provide 83% of the energy needed for paper drying, with 6% coming from the biogas generated by the site's wastewater treatment plant and the remainder from the existing natural gas boiler. Natural gas consumption will be reduced by 86%, while CO2 emissions will be reduced by 75% (i.e. more than 90,000 t of fossil CO2 avoided each year). In addition, the by-products treated in landfills (pulper rejects, which are currently invoiced because they are landfilled) will be reduced by 90%.
The two pulp preparation lines will also be modernised. « This year, €8m will be invested in the PM50, whose equipment has reached the end of its life,explains Francis Michel. Next year, €22m will also be spent on the PM60, so that we can use lower quality raw materials while improving the quality of the pulp produced. Our main order will be from Voith. » In addition, the production capacity of the site will be increased by 4%, while the product range will be expanded. The third component is the modernisation, expansion and securing of the logistics of the RPC stocks, particularly with regard to fire safety and safety distances.
In 2020, more than €8m was invested in various modernisation investments at this site – including the replacement of the scanners and QCS, supplied by ABB and installed on the PM 50. In addition, €2m was spent on new biogas desulphurisation equipment for the waste water treatment. This was in addition to a €4m investment by Dutch supplier Paques in 2019 to increase the anaerobic treatment capacity of this wastewater treatment plant by 50%. The full article will be published in the next issue (April-May) of "La Papeterie Magazine".
Valérie Lechiffre