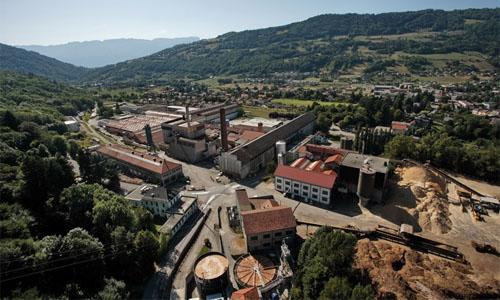 The Board of Directors of the Italian RDM Group favorably assessed an irrevocable offer received by its subsidiary RDM Blendecques S.A.S. for the purchase of its 100% interest in RDM La Rochette S.A.S. The offer was submitted by Bonaparte Holding SAS. RDM Blendecques S.A.S. thus today signed a put option agreement to sell its fully owned French company R.D.M. La Rochette. The offeror, Bonaparte Holding SAS, is a company under French law controlled by Mutares SE & Co. KgaA, an investment holding listed on the Frankfurt stock exchange and specialized in the acquisition of medium-sized companies. Michele Bianchi, RDM Group CEO, commented: "With the exit from FBB segment (Folding Box Board – cartonboard for folding boxboard based on virgin fibers), RDM Group can actually concentrate resources and energies on what is the real focus of the Group itself, WLC segment (White Lined Chipboard – paperboard coated packaging on a recycled base)".
The company is located in Valgelon-La Rochette, France and is a producer of Folding Boxboard based on virgin fibers (FBB) for among others the pharma and food industry. The transaction is still subject to the fulfilment of conditions and is expected to close in Q2 2021.
The target company will strengthen the Goods & Services segment as a new platform investment. It is the main producer in the FBB market in Southern Europe, with France being the key market. La Rochette mainly serves the pharma and food industry where the company has a solid and historic presence. The end-consumer food marketcovers approx. 50% of the demand in Europe.
La Rochette lays a strong focus on the natural aspect of its packaging, as market demand for more sustainable and eco-friendly packaging increases, the company was awarded several environmental certificates such as the Forest Stewardship Council (FSC), an environmental seal that rewards companies with outstanding traceability of their production and helps promote responsible management of the world's forests. In 2020 the company generated revenues of approx. EUR 120 million and employed around 300 people and an operational profitability of high single digit percent.
The acquisition of La Rochette will be the next step accelerating the growth of Mutares as promised by Mutares after successfully executing the increase of the outstanding bond, which enables limited equity contribution for Mutares within the transaction.
Valérie Lechiffre