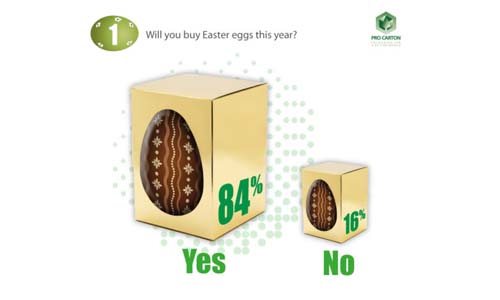 For many families across France, gifting sweet treats and Easter eggs is one of the most popular of Easter traditions. Eggs symbolise new life, which makes it all the more important to choose renewable packaging materials, when buying Easter gifts.
Driven by brands and retailers looking to be more friendly to the environment, manufacturers and converters have been redesigning their packaging for Easter eggs, as well as other Easter treats, to remove unnecessary plastic for many years. Consumers too are increasingly looking for products packed in sustainable ways, putting additional pressure on brands.
Our recent survey of European consumers revealed that in France, nearly two in five people still think retailers and brands are not doing enough to introduce more environmentally friendly forms of packaging. However, huge progress has been made when it comes to Easter treats like chocolate eggs.
Over recent years, most of the major brands have re-engineered their Easter packs, replacing plastic fitments with cartonboard and optimising the grammage of the board used. This is positive news, given nearly eight out of 10 consumers would prefer to buy a product packed in cartonboard/cardboard than plastic. And importantly for brands, they would be willing to pay more for it if they had to.  Some 69% of French consumers said they would pay extra for a product if it meant that the packaging had less impact on the environment.
However, despite these moves towards more sustainable packaging, there is more that can be done. A report published by Material Economics found that that 25% of plastic packaging could be replaced by cartons and paper-based packaging today, which would reduce the CO₂ produced by 85%.
Cartonboard has the advantage of being renewable, as well as being recyclable and biodegradable, as it comes from a natural resource. European forests are sustainably managed and are increasing in size by an area equivalent to 1,500 football pitches every day!  What's more, research studies have confirmed that cartonboard fibres can be recycled 25 times or more, nature doesn't understand the concept of waste!
Easter eggs and other Easter treats are usually given as presents over the festive period, which means they must, of course, look as well as taste good. Therein lies the real beauty of folding cartons. Not only are they made from a truly sustainable material but, given the print and special effect finishes available these days, they make a stunning looking gift too.