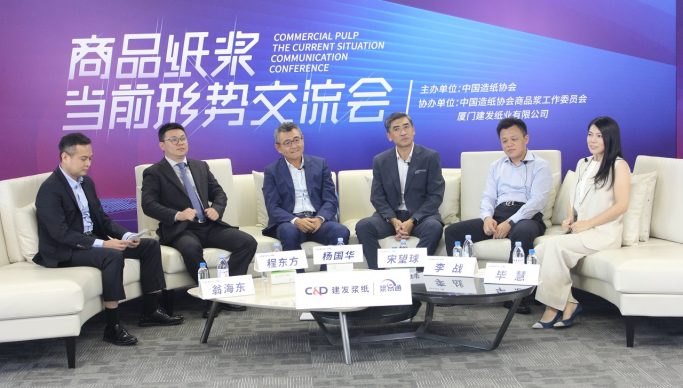 In 2021, the Russian company Ilim Group will celebrate 25 years of its presence in the Chinese market. Last week, its CEO, Mrs Kseniia Sosnina, was invited to a large-scale online conference (Online Market Pulp Seminar) in China to discuss the development of the P&P industry both globally and in China, in particular.
The event was organized by Xiamen C&D Paper& Pulp, the largest distributor of P&P products in China, together with the China Paper Association. Xiamen C&D Paper& Pulp is a long-standing partner of Ilim Group and one of the largest customers purchasing Ilim's pulp and paperboard.
The conference was attended by Zhao Wei, CEO of the China Paper Association, Cheng Dongfang, CEO of Xiamen C&D Paper& Pulp, as well as by the leaders of the largest manufacturers of pulp and paper products. The key topics covered by the conference included new challenges faced by the industry amidst pandemic, market trends in the second half of 2020, as well as the outlook for the P&P industry players.
"The key market trends now are the recovery rate after the slowdown caused by the pandemic and adaptation to the new normal on the demand side", emphasized Ilim Group CEO Kseniia Sosnina in her speech. "During the quarantine, there was a significant growth of demand in the tissue segment. Analysts forecast that the demand for tissue will continue to grow. Moreover, transition to e-commerce will drive up the demand for packaging. All these trends demonstrate that we have chosen the right development strategy. Ilim's investment program aims to increase the product output by another 1 million tons with the majority of products to be delivered to the Asian market and primarily to China. In this context, the Belt and Road Initiative that brings together China, Russia and other countries will play a very significant role. This program will facilitate access to the markets and will increase our efficiency".
Kseniia Sosnina also emphasized that although the pandemic remains a matter of grave concern, Ilim fulfills all of its obligations to the partners both in terms of P&P product output volumes and delivery schedules. Implementation of Ilim's key investment projects is on track and on schedule. Thus, a large-scale project involving construction of a new pulp and paperboard mill in Ust-Ilimsk will be completed on schedule and will add 600 thousand tons of board to the annual production volumes.