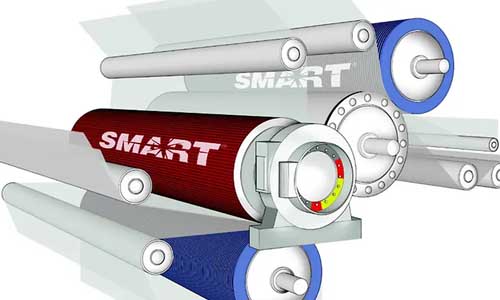 The Smart Rolls developed by international technology group ANDRITZ are equipped with sensors to measure the nip conditions in the roll cover in real time. In contrast to static measurements, dynamic measurements allow thermal, mechanical, or vacuum influences to be analyzed during operation. This enables performance optimization without downtime.
Smart Rolls are available for all roll positions in pulp and paper production, including suction roll and tissue Yankee applications. In addition to the rolls equipped with sensors, the complete package includes a dedicated computer system for measurement data processing, a receiver unit for data transfer, diagnostic software for analyzing the measured values, and various connection options to other computers, control systems, or even to mobile devices via an app.
The software of the Smart Roll System shows the nip profile, the pressure profile, pulse curves, and standard pressure and temperature deviations both in real time and over time in clear tables and diagrams. The software also offers a function that provides an overview of savings opportunities in production. This unique diagnostic tool gives the plant operator the option of making changes to the parameters during operation and immediately checking their effects.
The Smart Roll system has now been tested successfully in over a thousand applications. The results achieved prove the considerable economic benefit for the customer. The optimizations have extended the lifetime of the rolls and machine clothing, increased the production speed, and significantly reduced energy and fiber consumption.