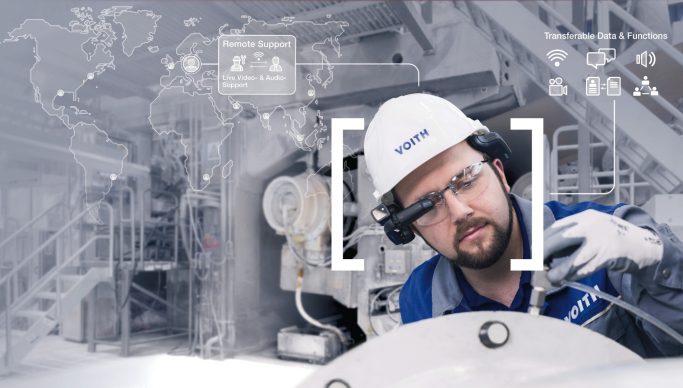 The pandemic has undoubtedly affected the ecosystem in which industries operate. In particular, companies have cut down on business travel and technical visits to industrial plants not only due to mobility restrictions, but also to adhere to social distancing requirements
Despite these changes in society as a whole, the need for ongoing equipment maintenance persists in industrial companies. In this context, Voith is launching OnCall.Video, its new digital remote support tool that will allow companies to access Voith experts through high-quality audiovisual communication systems.
OnCall.Video will enable Voith experts to provide remote support and real-time data analyses – no matter where your plant and staff are. Tablets, cell phones and smart data glasses will enable operators to keep their hands free while implementing the procedures passed on through voice commands with excellent audio quality thanks to active noise cancellation features.
Plant teams will also be able to interact with Voith experts through high-resolution screens.
Developed for industrial environments, OnCall.Video accessories are compatible with Personal Protective Equipment (PPE), as well as resistant to water and dust.
By choosing Voith's OnCall.Video offering, companies benefit in multiple ways, including:
Quick access to Voith expert teams
Assisted reality
Content sharing
Minimized machine downtime
Productivity increases
Another feature of OnCall.Video is its unique data transmission system. The remote video support system will enable safe information sharing, while also allowing users to take high-resolution pictures and use the system even under slow broadband connections.
As a result, OnCall.Video will help companies reduce travel costs by dispensing with the need for sending expert teams to the field for physical inspections.
Considering the current global situation, Voith is offering two OnCall.Video packages: the OnCall.Video Support Package , which customers can subscribe to for a specified period and unsubscribe at any time; and the standard OnCall.Video contract with annual subscription and the option to extend it to a Support Agreement , which offers guaranteed response time.
To find out more about Voith's OnCall.Video remote support system, contact OnCall.video@Voith.com.