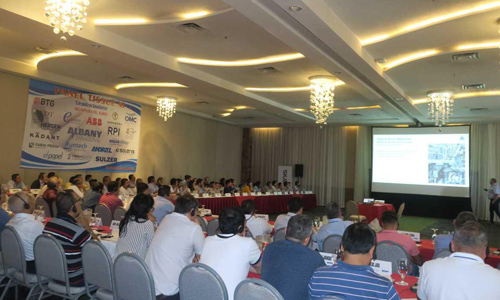 Those involved in the Latin American market of tissue production, be they producers or suppliers, know about the seminar organised regularly by Albany Mexico in Acapulco and managed by Roberto Rosas. The 11th edition, supported by our sister publication EL PAPEL, is taking place this week with a record attendance of some 200 delegates gathered at the Hotsson resort. It appears that a younger generation is entering the industry in the region, a population that is eager to get an additional technical and pratical training.
Although the latest Albany products and services are obviously heavily showcased, many non-commercial presentations given by some of the best experts of the leading  felts manufacturer provide an excellent technical update on the tissue making process, and the importance of choosing the right machine clothing for a better productivity.
Shoe pressing, stock preparation, chemistry, water treatment, creping, drying, energy savings, digitisation and converting are also featured with presentations by the partners of Albany like Runtech, Nalco, Kadant, Andritz, Fabio Perini, Hergen, Solenis and BTG.
The next event will happen in 2020 and should focus on brown and graphic paper.