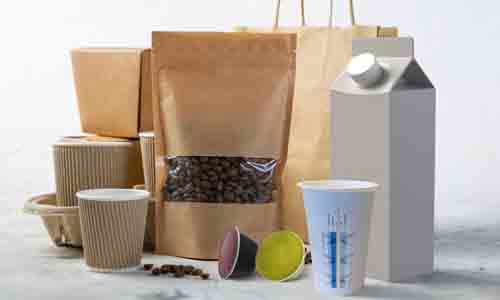 Sustainability is the most urgent packaging trend in the food sector. Sooner or later, conventional aluminium packaging for roasted coffee beans will therefore disappear from the market. There are already far more sustainable packaging solutions that meet the full range of requirements. They combine the necessary functionality with the desired recyclability or – in the case of paper-based packaging – repulpability.
 The trend to enhanced sustainability and circularity of packaging is an urgent challenge for society and is being driven forward by legislators and consumers as well as brand owners and manufacturers. The objective is to find circular packaging solutions. Various trends and requirements are currently transforming the packaging market: renewable raw materials, reducing the amount of packaging material, cutting CO2 emissions, monolayer products, recyclability, repulpability and biodegradability – to name just a few. However, differing regional and national regulations are a challenge. Nevertheless the ultimate objectives are the same worldwide: increasing the shelf-life of food and reducing waste.
Aluminium pouches are problematic
Laminated pouches with an aluminium foil layer have been one of the most common forms of packaging for roasted coffee beans for many years. However, the aluminium prevents mechanical recycling of this type of multilayer packaging. Moreover, production of aluminium is highly energy-intensive. Therefore, more sustainable alternatives to this common packaging for coffee beans are currently being developed. However, it is essential that these new, environmentally friendly packaging solutions provide comparable protection for the coffee beans – including a similar barrier to oxygen and moisture as well as preserving the aroma. The packaging innovations for coffee beans presented here combine these objectives.
FOCUS ON THOSE WHERE PAPER IS INVOLVED.
The concept: paper bags coated with modified polyvinyl alcohol
One possible structure for this type of packaging is paper / moisture barrier coating / EXCEVAL™ coating / heat-sealable coating
A thin, water-soluble EXCEVAL™ coating acts as an oxygen and aroma barrier in paper-based packaging for coffee beans. The modified polyvinyl alcohol is applied with conventional coating equipment. Normally dispersions of polyolefin or other polymers are used as heat-sealable coating on the inside of the pouch. These paper structures can be repulped without problem in standard paper mills. This type of packaging is based on a technology approach that has been established in the paper industry for many years.
The concept: Repulpable paper packaging with biopolymer
One possible structure for this type of packaging is paper / PLANTIC™ film / sealing layer made of e.g. PE, PBS or PBAT
PLANTIC™ biopolymer is a film manufactured by Kuraray using up to 80 percent thermoplastic starch from renewable raw materials. PLANTIC™ is biodegradable and compostable (industrial and home composting). Due to its high gas barrier, this biopolymer can be used in packaging, including paper packaging, that preserves aroma and effectively keeps out oxygen. In this structure, the PLANTIC™ film is laminated onto the inner side of the paper. An additional heat-sealable inner layer acts as a moisture barrier. This may be made of polyethylene, polybutylene succinate or polybutylene adipate terephthalate. PLANTIC™ is soluble in water, so the layers can easily be separated and the paper packaging can be repulped without problem. This type of packaging is already being used very successfully by a coffee roaster in South Korea.

These examples show that it is possible to ensure the functionality of coffee packaging and, at the same time, improve its sustainability thanks to reduced amounts of material, recyclability, repulpability and compostability. Innovative material combinations open up many options for new, environmentally friendly packaging concepts.