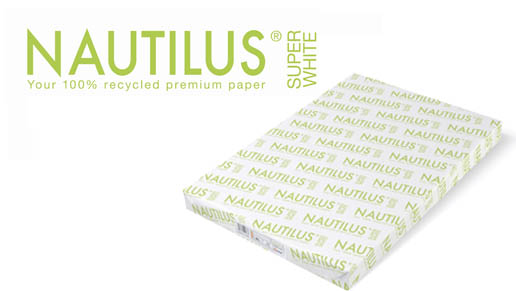 Antalis, Europe's leading distributor of paper, packaging products, and visual communication solutions will today start distributing the newly extendedMondi NAUTILUS® range of papers in reels and folio formats to address the growing need for premium recycled uncoated graphic papers.
All graphic papers in the new Mondi NAUTILUS® range are uncoated and made out of 100% post-consumer recycled paper. They match the highest sustainability standards and are FSC™ and EU Ecolabel certified.
NAUTILUS® SuperWhite is a 100% recycled uncoated paper with a high level of whiteness(CIE 150)
NAUTILUS® Classic is a 100% recycled Blue Angel certified uncoated paper with a natural shade for an authentic recycled look (CIE 112)Both paper brands provide premium quality paper for reduced dusting and optimal machine protection.
•Suitable for black & white and colour applications
•Tested on Xerox, Canon, Konica Minolta, Ricoh, Kodak
A new range to serve the growing demand for recycled productsIn the last two years, demand for recycled papers has been growing steadily. This demand has been fueled by brand owners responding to a growing concern for a more efficient use of natural resources and circular economy. Recycled papers fit well into the 3R (Re-duce, Re-use, Re-cycle) initiatives growing all over the world. With this new distribution agreement, Antalis will reinforce its leadership position into providing sustainably produced alternatives to the market« We are delighted with this new distribution agreement. With the end of Arjowiggins Graphicrecycled paper ranges, we needed to find alternatives for our customers. We believe that Mondi has the right product and service to become the market leader in the recycled uncoated paper segment. They also have a good track record of establishing strong brands in the market. Togetherwith NAUTILUS® we are confident we can champion the benefits of using recycled paper» says Xavier Jouvet, Group Marketing & Purchasing Director for Antalis. « Antalis has a global presence and a strong connection to agencies and brand owners, whichwill help us accelerate the adoption of NAUTILUS® and thus spread sustainable paper solutions. Working closely together, we can grow the recycled graphic paper market even more"», Johannes Klumpp, Marketing & Sales Director Uncoated Fine Paper at Mondi Group, commented.