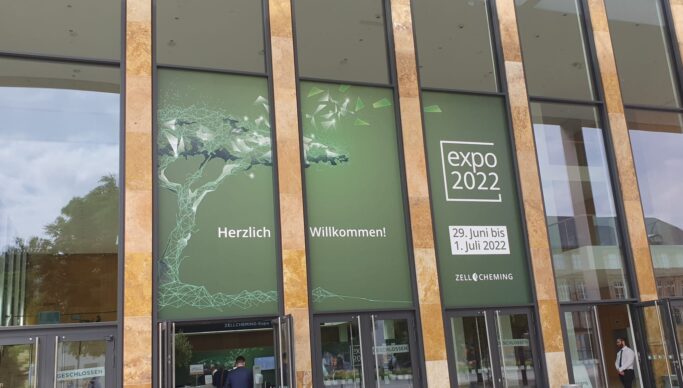 The German ZELLCHEMING-Expo is returning to Wiesbaden this year and opened its doors this week.
After the welcome by Wiesbaden City Councilor Dr. Stefan Korbach, Dr. Ernst-Ulrich Wittmann, ZELLCHEMING Chairman, and his deputy Dr. Helga Zollner-Croll, opened the ZELLCHEMING-Expo 2022 with an exciting panel discussion! Dirk Schwarze, Managing Director, Model Sachsen Papier, Alexander von Reibnitz, Managing Director "Die Papierindustrie", Bilal and Cihan Dalgic, Co-Founder of the start-up Haepsi and Katharina Balcet, environmental activist and ambassador of Plant-for-the Planet, exchanged views on the topic "Awareness for sustainable products".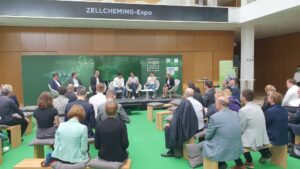 The panelists agreed that only exchange and collaboration across the value chain makes sustainability possible, and that renewable raw materials are the core prerequisite for sustainable products. The Dalgic brothers, who developed and patented a paper-based packaging for kebabs that is "functional and sustainable," emphasized that this innovation had presented them with enormous challenges as a start-up. Their message: "Conserving resources also means using raw materials in a targeted way!" This does not apply to aluminum foil, which is widely used as kebab packaging.
Katharina Balcet explained that while Plant-for-the-Planet stands for a new dimension of reforestation program, it is also a great thing when the trees are used afterwards for products such as furniture or packaging.
Dirk Schwarze was pleased that "young people perceive paper as so sustainable." He also explained that recycled paper is a particularly scarce commodity at the moment and that the aim is to raise the last possible percentage points on the way to a higher recycling rate. If the industry manages to get the paper packaging of a kebab into the recycling loop, he said, that would be a big and important step. "But it would also mean that we as recyclers and our processes would face new tasks."
Alexander von Reibnitz was also enthusiastic about the encouragement from NGOs and the startup scene. He said, "The consumer is the crucial part of the recovered paper chain," and, "We are meeting with broad interest and great support from the public!"
WOMEN4PAPER
Another interesting session was the Women4Paper on the second day, an event especially aimed at women in the pulp and paper industry. Four years after its founding during ZELLCHEMING-Expo 2018, the network already has almost 300 female representatives from the industry.
Professor Gabriele Diewald's keynote address has the exciting topic of "Gender-equitable language," after which there will be short presentations by representatives from the industry. Christiane Helbrecht, Christina Leitner and Dr. Kerstin Keppler will shed light on the topic of "careers" from different perspectives. This will be followed by a panel discussion under the motto "How does the pulp and paper industry become attractive for female managers?".