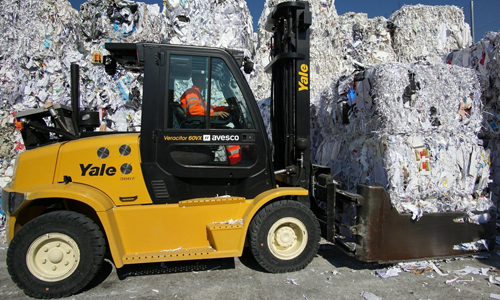 Not only does Yale understand the solutions required to meet the needs of every facet of the paper industry, but it also has an appreciation of the evolving nature of the sector. "Paper applications are changing," commented Josie Burrell, Industry Solutions Group Manager for Yale, "Recycling is growing, and the demand for quality and specialist paper is also on the increase. By understanding the industry trends we are able to better cater for the materials handling requirements of our customers. Around 20% of paper costs are attributed to handling and shipping – this is a huge proportion; therefore it is imperative that our clients can trust the solutions we provide."
Using its years of experience and knowledge, Yale has developed a number of truck adaptations specifically for the paper industry. Included amongst the performance enhancing features of the Yale® Veracitor VX range is the automated flushing of debris from the engine compartment, which keeps the vehicle running for longer between clean-outs. Combi-cooler radiators cool both engine coolant and transmission oil, and a load weight display provides real-time feedback to the operator of the load weight being lifted.
Also featured is an underbody belly pan to prevent material entering the engine area and causing clogging and overheating, while drive-axel rubber guards minimise debris falling between the mast and the chassis. Protective elements include a radiator screen, powertrain protection, a sealed chassis, exhaust wraps, as well as tilt and steer cylinders being shielded by ballistic nylon covers.
For extreme operating applications Yale has developed the industry leading GDP50VX Counterbalance 'Cool Truck' package. Packed with features to overcome the difficult environments found in the paper supply chain, the Cool Truck features a hydraulic fan with a self-cleaning reversing function, a fully enclosed frame to minimise the volume of paper debris drawn into engine compartment, and high temperature hydraulic oil.
"When operating standard forklift trucks in the paper industry, the radiators can easily get clogged up causing unnecessary downtime," said Josie. "This is not only frustrating; it costs businesses money in lost production and can lead to other problems. This is where our clever Combi Cooler radiator comes into its own, with the fan changing direction for 20 seconds every 20 minutes to blow out any unwanted dust and debris."
The pulp and recycling area of the paper industry is a challenging working environment making constant demands on materials handling equipment. For this reason, customers require a forklift range that offers the ultimate in quality and reliability. Josie is confident in the ability of Yale to fulfil these needs: "Each stage of the paper and products cycle can require a wide range of different materials handling solutions and specialist equipment. The process that transforms recycled paper is particularly unique in the challenges that it poses. Through consultation with our customers and industry experts we've developed a range of trucks that provide a package of features to support productivity in dusty, dirty environments."