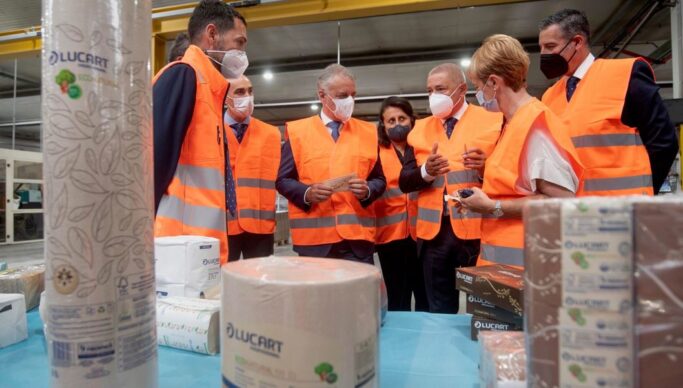 Iñigo Urkullu, the President of the Basque Government- Lehendakari in Basque – and Arantxa Tapia, Councillor for Economic Development, Sustainability and the Environment, visited the Lucart tissue paper mill in Artziniega last month for the opening of a new production line. Massimo Pasquini, Managing Director of the company, accompanied them on the tour.
The cellulose pulp mills were acquired by the Group in 2018. There are two production centres in the Basque Country, one in Artziniega and one in Aranguren, in addition to a warehouse in Güeñes.
The hubs are dedicated to the production and conversion of tissue paper and the production of soaps and personal detergents for use in the Away from Home sector. A major deinking plant for manufacturing high-quality, eco-friendly, recycled tissue papers consolidates Lucart's leadership in this field. Lucart is a family-owned Italian group that is expanding internationally. "From a logistical point of view, the geographical location of the plants is ideal to serve the Iberian, French and British markets. Continuing to invest in the Basque plants is one of the priorities of the Lucart Group", said the company's CEO Massimo Pasquini. "We thank the Basque institutions for the support they expressed from the very start. We are honoured to be able to welcome the Lehendakari and the Councillor to our plants and delighted to share our most innovative and sustainable projects with them."
"We are here today to recognise the positive impact of this new investment", declared Lehendakari Iñigo Urkullu. "It is a challenge in terms of industrial capacity, internationalisation and employment in this area. Importantly, 224 people are employed in the company. We have created jobs and successfully renovated the old paper mill with a project focused on the future. The Lucart Group has invested more than € 20 million to modernise the systems and develop new production lines."
"Lucart is the benchmark for a sustainable and responsible production model", he added. "The papermaking process optimises the use of raw materials and reduces waste by turning it into new resources. The company applies production models inspired by the circular economy to protect the people and the future of our planet. With its commitment to sustainability, the Group has saved 170,000 tonnes of CO2 over the last eight years in the scope of a Tetrapak packaging recycling project. Investment, technology, digitisation and environmental sustainability is a combination that improves business competitiveness."
Since having acquired the Basque factories in 2018 and by implementing a successful strategy, Lucart has invested more than € 20 million to develop new production lines and improve the existing ones. In particular, a new automated handtowel manufacturing line has just opened. These innovative, state-of-the-art machines can produce twice as much as a conventional machine by using two separate unwinding lines. The investment totalled € 4 million for this machinery alone.