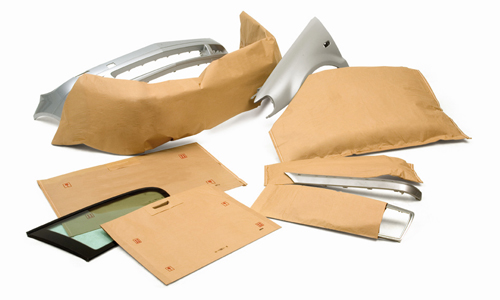 The Scandinavian Packaging Association (SPA) has honoured Mondi's work with Sweden's aPak AB to create a more sustainable, cost-effective and efficient method for packaging door consoles for a global truck manufacturer. The innovative 'Protector Bags' solution developed by Mondi recently won a prestigious SPA 2019 ScanStar award.
 Mondi, a leading global packaging and paper group, and aPak, a Swedish packaging dealer, came up with an efficient, sustainable solution that greatly enhances logistics. Compared with the previous slow, tedious process to package and ship door consoles, the paper-based, 'envelope-like' Protector Bags have increased efficiency, reduced workload and lowered overall cost to the customer by more than 70%. The lightweight, compact, 100% recyclable bags also are sustainable by design – requiring less material, using paper instead of plastic, and halving the number of trips needed to move components from place to place.
 During a visit to the facility of one of the manufacturer's subcontractors, aPak observed the inefficient method used to handle and transport the door consoles and approached Mondi to find a suitable solution. Mondi applied its customer-centric approach called EcoSolutions, by which Mondi supports customers to achieve their sustainability goals. It's vital to ask the right questions along the value chain to find the most sustainable and suitable solution for the specific purpose. "So we began to map and analyze the process and its different steps more thoroughly with a view to creating a more efficient and fit-for-purpose solution," explains Claudio Fedalto, Sales Director, Mondi Paper Bags.
 The award-winning Protector Bags have reduced the packaging process from minutes to seconds, and no intermediate repacking is necessary before distributing worldwide. Everything required to seal the packaging is already applied to the product. An employee can easily place the console in the bag's 'pocket' and seal the pre-assembled tape in seconds. The packaging process is now less strenuous for the people involved and, since using the process is as simple as sealing an envelope, very little can go wrong, so instructions are not required.
"At aPak we rarely talk about perfectly accomplished packaging solutions, but when it comes to Protector Bags, we are willing to make an exception." says Magnus Sidling, Global Account Manager at aPak.