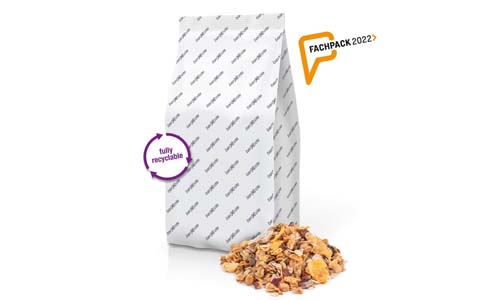 At this year's Fachpack, the speciality paper manufacturer Mitsubishi HiTec Paper will be presenting several sustainable innovations in the field of packaging papers – thus confirming its high innovative strength.
Among other things, Mitsubishi is adding the optimised BAG WG with a new substance to its wide range of barricote® barrier papers. The product has a basis weight of 49 g/m² and impresses with improved barriers against water vapour and grease (KIT level 12). Due to its optimised heat-sealing capabilities, the new BAG WG, which is also available in 87 g, is the ideal and sustainable alternative for pouch packaging of dry and greasy foods as well as non-food.

With the completely newly developed PACK 70, Mitsubishi is also introducing a packaging paper for the non-food sector. The 70 g paper is heat-sealable, based on virgin fibres and serves as an environmentally friendly and sustainable alternative to existing plastic packaging made of films and film laminates. This can be bag packaging for toys, cosmetics, spare parts, handicraft accessories and much more.

Both new products are of course recyclable and available FSC® or PEFC™ certified. For samples and more information on the full range of barricote barrier papers (LINER, BAG, WRAP), visit Mitsubishi HiTec Paper at Fachpack stand 7A-310