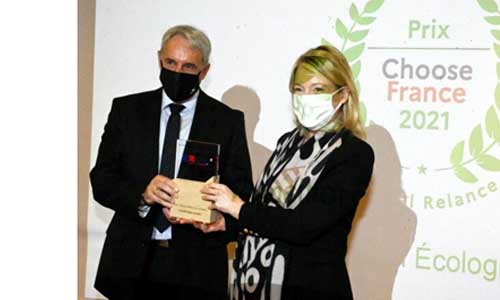 On 17 January, Bérangère Abba, Secretary of State at the French Ministry of Ecology (in charge of biodiversity), presented the "Choose France" award for ecological transition to Yves Bailly, CEO of Norske Skog Golbey (NSG), during a visit to the Vosges site. At the beginning of October, a ceremony was organised in Paris, during which NSG was declared the winner of this category. Orchestrated by Business France, these "Choose France" Awards reward international investors and their contribution to the "France Relance" Plan.
After a welcome on the steps of the administrative offices, in the presence of local elected officials, the Minister donned a helmet, high-visibility waistcoat, hearing and vision protection to begin a quick tour of the site. Very interested in the process and its capacity to recycle more than two-thirds of the paper sorted in France, the Secretary of State asked a few questions about the circular economy model and the "Box" project, which aims to transform one of the site's two newsprint machines into the production of corrugated case material (CCM), at an investment of some €250 million.
The Secretary of State praised the plant's « situational intelligence» and its ability to reinvent itself. She also considered that « NSG is a perfect illustration of the fact that a project's strength lies in its territorial roots » and that this diversification was « mature and well thought out », with « results that will be concrete and measurable. » Finally, she recalled that this Prize represented a way for the State to « recognise, appreciate and congratulate » NSG for its economic dynamics which find their power in its circular economy model.
V. Lechiffre