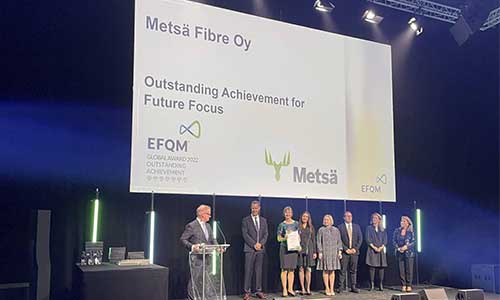 Metsä Fibre, part of Metsä Group, has again won international recognition in the EFQM Excellence Award competition. The company achieved EFQM Global Award 2022 7 Diamonds rating and has been awarded the Outstanding Achievement for Future Focus recognition. Metsä Fibre received special praise from the EFQM assessors for a strong focus on the future and the outstanding ability to combine long-term vision and strategy with the daily operations in the short term as well.
"We're happy and proud to have received this award. Following our vision, we want to be our customers' preferred partner and the most profitable producer of bioproducts that generate sustainable growth. We aim for sustainable excellence through industrial efficiency, long-term customer relationships and new solutions promoting sustainability. We take sustainability into account in all our operations and actively develop sustainable solutions to mitigate climate change and promote the circular economy. The basis for the implementation of the company's strategy is our personnel's commitment and know-how – the work we all carry out daily. Examples of our investments in the future are the world's most modern pine sawmill, which has started up in Rauma, and the new bioproduct mill under construction in Kemi. These investments contribute to the achievement of our strategic objectives," says CEO of Metsä Fibre, Ismo Nousiainen.  

"One of the core principles of Metsä Fibre's operations is continuous improvement. We apply the EFQM excellence model for the long-term development of Metsä Fibre's operations. In this work, the external feedback received from the experienced assessors is very valuable to us," Nousiainen explains.
Tens of thousands of organisations around the world use the EFQM Excellence model to assess and develop their operations in both the private and public sectors. The goal of the EFQM competition is to identify front-running organisations that can demonstrate solid results of their strategy implementation and continuous improvement of operations.
Metsä Fibre has participated in the international EFQM Excellence Award competition for the third time now. In 2015, the company was among the finalists. In 2019, Metsä Fibre improved its result, reaching the Recognised for Excellence 6 Stars level, and was granted the Outstanding Achievement of Sustainability award. This year, Metsä Fibre again improved its result, reaching EFQM Global Award 2022 7 Diamonds rating level, and was granted the Outstanding Achievement for Future Focus award. In 2012, the company won the Finnish Excellence award.