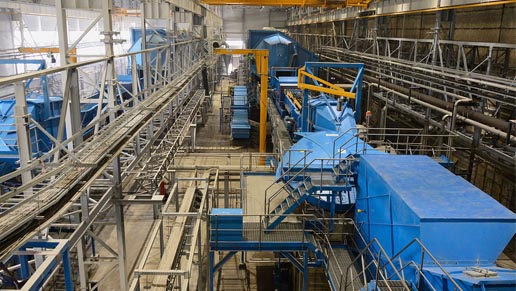 In 2018, Ilim Group invested more than RUB 23 billion in the upgrade of the existing mills and construction of new production facilities (according to RAS financial statements).
Ilim's investment program covers a period of 5 years through 2021, with total investments around RUB 200 billion. As a result of the upgrade of the existing facilities and launch of new capacities the finished products output will increase by 1 million tons, including 700 thousand tons of packaging materials and 300 thousand tons of market pulp.
In 2018, 5 new production facilities were placed in service to support capacity growth and reduce the environmental footprint.
"The investment program for 2018 was successfully completed. We are satisfied with the result and we are ready for the next investment cycle," said Kseniia Sosnina, Ilim Group CEO. "We are implementing a large-scale upgrade of our mills in Bratsk and Ust- Ilimsk on a stage-by-stage basis and we will increase our investments in 2019. The key milestone of this year will be the start of initial groundwork for the pulp and paperboard mill construction project in Ust-Ilimsk. These projects will allow Ilim Group to increase its presence primarily in the Asian market, where the demand for pulp and paper products is significantly higher than supply. Our goal is to increase the supply of finished products  to reach 2.4 million tons per year by 2024."
Ust-Ilimsk
By 2022 the Ust-Ililmsk mill will become "a million-ton mill" with a total annual production capacity of 1.5 million tons of market products.  The Big Ust-Ilimsk project, which was launched in June 2018, became a large-scale investment project. The project involves the construction of a new pulp and paperboard mill with an annual capacity of 600 thousand tons of packaging materials. In summer 2019, the construction work will be started at the Ust-Ilimsk site; contracting is in progress to supply a unique, one of a kind, paper machine that will have a custom design and the highest KLB production capacity in the world. It will have a maximum capacity of 2,150 tons per day, speed of 1,200 meters per minute and trim width of 9,400 mm.
In addition, the pulp line upgrade will be completed at the Ust-Ilimsk mill by the end of 2019, which will increase its capacity by  another 50 thousand tons.
In 2018, a new woodroom was placed in service to support new capacities.  The project was launched in 2015 and completed in 2018, with CAPEX of RUB 3.3 billion. The new woodroom includes two automated chipping lines with a total annual capacity of 4 million m3 of chips. The cutting-edge production process will reduce wood losses, and water and electric energy consumption per unit of product.
Another important technological and environmental project was RB3 upgrade. The work was started in August 2017 and completed in November 2018 with CAPEX of RUB 3.9 billion.
The recovery boiler upgrade increased its capacity up to 1,750 tons of dry solids per day. The project involved an upgrade of 95% of equipment, including replacement of almost all heating surfaces, installation of new economizers, superheaters and other components, and the automated process control system. Installation of new precipitators on RB3 will reduce dust emissions by 20%.
In order to ensure efficient and safe operation of the recovery boilers to support capacity increase, Ilim had to rebuild the evaporation stations.  The evaporation stations upgrade was carried out together with the RB upgrade in 2017-2018, with CAPEX of  RUB 1.3 billion. The evaporator layout was modified: four liquor concentrators and two new surface condensers were installed, as well as a distributed control system to facilitate precision operation. This helped to increase the evaporation capacity from 820 to 1,030 tons per hour and to increase the dry solids concentration in evaporated black liquor fed to RB.  The upgrade of RB and evaporation stations will ensure a significantly lower environmental impact due to a rediction of chemical losses in the production process, which in turn will improve the quality of effluents sent to the mill's wastewater treatment facilities.
Bratsk
By the end of 2021, several strategic projects with a total CAPEX exceeding RUB 38 billion will be implemented at the Bratsk Mill of Ilim Group. The KLB line upgrade, which will be completed in autumn 2019, will allow to increase KLB production volumes by 110 thousand tons. The rebuild of the HW line will be completed in 2020 to increase the annual production output by  173 thousand tons. In 2018, a demineralized water plant rebuild was carried out as part of preparation for capacity expansion and increase in production volume. This project started in April 2017 and was completed in August 2018. Total CAPEX was RUB 700 million. A decision was made to rebuild the chemical water treatment plant and install a new water treatment unit with a design capacity of 400 m3 per hour in order to support operation of the upgraded recovery boiler. The demineralized water plant rebuild was performed in accordance with best available technologies and will contribute to resource saving.
Koryazhma
PM6 was upgraded at the Koryazhma Mill of Ilim Group. The project with a total CAPEX of RUB 200 million was launched in 2018 and completed in February 2019. In particular, the project scope included a replacement of the  headbox.  The old headbox had been in use since 1992. Since then PM6 capacity increased by 22%. Installation of a new MasterJetTM Pro headbox with ModuleJect dullution system and Profilmatic control software will allow to reduce the amount of rejects, expand the white papers mix produced at PM6, and improve quality of products to the best global producer's level.