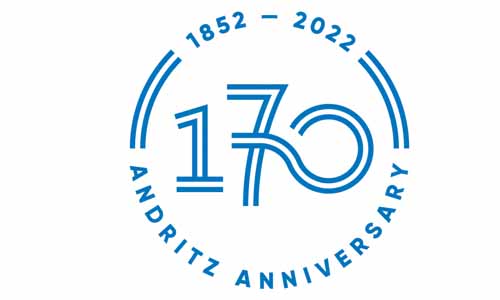 A special highlight will take place this year for ANDRITZ AG in Graz: Exactly 170 years ago, the Hungarian Josef Körösi founded the "k. k. privilegierte Maschinenfabrik und Eisengießerei" in Andritz near Graz, thus laying the foundation for the globally successful ANDRITZ GROUP.
Today, ANDRITZ is one of the technology and global market leaders in the hydropower business, the pulp and paper industry, in the metal working and steel industries, and in solid/liquid separation for municipal and industrial segments.
"In our anniversary year, we look back with pride on the last 170 years of company history and 100 years of apprenticeship training.  What began in 1852 with the production of metal goods such as wire nails, chains and iron bars, is now one of the most important companies and employers in the country. Behind this are pioneering work, entrepreneurship, innovative strength and courage, all of which result in great technological developments. I am looking forward to leading ANDRITZ into the future and to writing the next chapters of our success story together with more than 27,000 employees around the world," says Joachim Schönbeck, President and CEO of ANDRITZ AG.
On track for growth through acquisitions, research and development
The ANDRITZ GROUP has grown very strongly in the last few decades. Thus, since 1990, not only have around 80 companies with complementary product and technology portfolios been acquired and integrated into the Group, but organic growth has also been driven forward through research and development. Every year, ANDRITZ spends around three percent of revenue on innovation and research and development, including order-related work. The focus here is on the development of sustainable products and digitization.
Comprehensive portfolio of sustainable products and in the area of digitalization
ANDRITZ already generates about 40 percent of its revenue with sustainable products and solutions, such as renewable energies and e-mobility. With Metris, a modern digitization platform has been created in recent years, which all four business areas use successfully. All digital offerings from remote maintenance to process optimization and digital twins to cyber security solutions run on this unified platform without a system bridge and help our customers to use their plants even more economically. In addition to the company's own research centers and pilot plants all over the world, ANDRITZ also operates an active idea and innovation management system, which promotes the ideas of its employees all the way to internal start-ups.
100 years of apprenticeship training at ANDRITZ in Graz
Electrical engineering technician, industrial clerk or design engineer: Since the founding of the apprentice workshop in Graz in 1922, the training and further education opportunities have offered young people the start of a promising career at ANDRITZ.
"What was true 100 years ago is still true today: the young talent of today is the cornerstone of our successful future. Thanks to the varied training, exciting working environment and numerous development opportunities, many of them stay with our company after completing their apprenticeship and rise to management positions. We want to further strengthen this development process," Schönbeck said.
Currently, around 700 apprentices are employed throughout the ANDRITZ GROUP, 92 of them at the site in Graz (here you can find an overview of all eleven apprenticeships). In addition to practical and theoretical specialist instruction, the training also includes English courses, among other things, in order to be fit for foreign assignments.
ANDRITZ offers a positive, safe, and future-oriented working environment in which all employees are treated fairly and with respect. The different backgrounds of the employees and their diversity are seen as a great enrichment and valued. ANDRITZ is committed to a multicultural working environment with international career prospects. Employees come from more than 32 different countries and more than 23 languages are spoken in the company.
Employees, family members and friends celebrate the company's anniversary in Graz
Internal celebrations around the globe represent a highlight of the anniversary year. Last weekend, ANDRITZ opened its doors in Graz for "Family and Friends Day" for all employees, their families, and friends. More than 4,000 participants from all Austrian sites in Graz, Vienna, Raaba, Weiz, St. Pölten, and Linz came together at the Graz-Andritz site under the motto "Proud to be ANDRITZ" and took advantage of the varied program to celebrate the success story away from their daily work routine. Plant tours, demonstrations of new technologies and an exciting children's program rounded off the varied day.
"We are proud not only of our major global projects and innovative products, but above all of our outstanding international team. That is why the anniversary celebration focuses on the people who have made our many years of success possible in the first place: Our employees, to whom I would like to express my thanks," Schönbeck concludes.