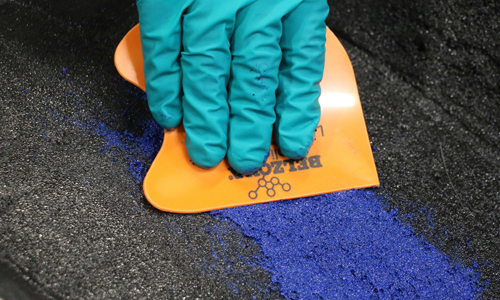 Belzona Polymerics, one of the world leading providers of high-performance polymeric repair composites and protective coatings is excited to announce the launch of a new product to add to their comprehensive portfolio of solutions for industrial maintenance.
This new product, Belzona 1818, has been specially formulated for emergency patch repairs in highly abrasive environments typically found in industries such as mining, cement, pulp & paper, biomass, amongst others where equipment is commonly exposed to extensive erosion and abrasion from excavated or processed materials of varying type, size and shape.
What is easily identifiable about this new product is its distinctive blue colour. This vivid blue serves as a good mixing indicator and provides contrast where an application is carried out in poorly lit conditions or against dark background surfaces where the repair area should be easily identifiable. These conditions can be common in typical industrial applications where Belzona 1818 is likely to be used.
Belzona 1818 is the newest addition to the highly erosion resistant Belzona 1800 series product range and bridges the gap between surface tolerance, fast cure and high abrasion resistance. It's fast curing properties means minimal downtime for damaged equipment, so much so that the product can experience full mechanical loading and heavy abrasion just two hours after application, depending on cure temperatures.
In these abrasive environments, surface preparation can also be an issue and contamination is common, therefore the equipment cannot always be fully cleaned or ideally profiled as required for many repair materials. The desire to deal with adverse application conditions creates a need for a not only fast-curing, but also a surface-tolerant material. As a result, Belzona 1818 has built in surface tolerant technology, enabling it to bond tenaciously onto steel substrates even when surface preparation is minimal or if the substrate is heavily contaminated with oil or water. The product can even be applied and cured underwater.
Kristine Savicka, Belzona R&D Technician explains: 'Belzona 1818 builds on our knowledge and experience of producing highly abrasion resistant systems, and combines this technology with our know-how and expertise in producing fast-cure and surface-tolerant products for application in non-ideal conditions. Belzona 1818 offers the high erosion resistance expected of the Belzona 1800 series with added application benefits, offering ease of use and a fast return to service'
This new product is supplied in convenient 1kg units where base and solidifier can be easily combined on a Belzona work surface. Belzona 1818 is easy to mix and apply and offers a good working life (16 minutes at 20°C/68°F) whilst still offering fast cure and a rapid return to service. The product is suitable for emergency repairs where downtime must be kept to a minimum and optimal surface preparation cannot be achieved due to accessibility or environmental and application constraints.
As with all Belzona products, Belzona 1818 is made to the highest quality and safety standards and has undergone rigorous performance testing. Belzona 1818 is user friendly and can applied without the need for hot work or specialist tools. In addition, Belzona 1818 is formulated without solvents and is free from CMR classification and labelling, whilst maintaining cure speed and performance to give a durable and long-lasting repair.
Based on initial research and feedback from Engineers in the field, it is envisaged that this product will be used on various types of equipment within abrasive environments such as slurry pumps, grinding mills, screw conveyors, chutes and hoppers, hydrocyclones, wear plates, dust extraction pipe work, agitator shafts, hubs and blades.