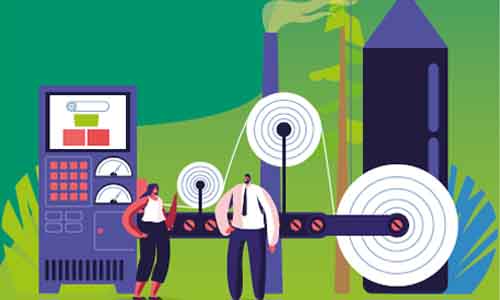 A recent collaboration between associations representing the paper manufacturing and heat pump sectors, Cepi and EHPA, has resulted in innovation which could produce energy savings of 50% in paper manufacturing. It could also be key in decarbonising one of Europe's energy–intensive sectors. But EU regulators need to speed up incentives for affordable clean energy.

Already today, heat pumps are enabling energy savings for many industries. They provide about 10% of final industrial energy demand in Europe, and help to lower industrial emissions across many sectors. A recent development is that commercially available large heat pumps and steam compressors can now heat up to 200°C, meeting the pulp and paper industry's needs. The innovation has been encouraged
by exchanges between both industries at European level.

A joint working group between members of the European paper and heat pump industries calculated potential energy savings in paper drying of more than 50%, and a joint Cepi–EHPA paper detailing how heat pumps could be integrated into paper mills has now been published.

The partnership between EHPA and Cepi tells the story of how collaboration can result in innovation breakthroughs, with real decarbonisation impacts. This is the purpose of Cepi's Energy Efficiency Solutions Forum (EESF), hosting the joint working group, where front–running companies can exchange and learn from each other's efforts to implement cutting edge technologies. The format of the EESF is
frequently hailed as a model for other industries' collaborative decarbonisation efforts.

Whether or not heat pumps can be rapidly deployed in paper mills across Europe now depends on the regulatory incentives that national government and EU Institutions can provide for electrifying the sector, which will require large amounts of affordable clean energy to meet the challenges set in the recently announced EU Green Deal Industry Plan.
"The progressive phase–out of the fossil fuel alternative in industrial applications will be essential to building a business case. It will also be driven by high energy costs and the increasing CO2 price where clean energy clearly offers a beneficial solution." Thomas Nowak, Secretary General EHPA (European Heat Pump Association)


"When Cepi launched the Energy Efficiency Solutions Forum exactly three years ago, heat pumps were investigated but were not yet reaching high enough temperatures. Through the candid collaboration between both sectorial associations, the technology now matches our needs. It will be an important building block in reducing the energy needs in the paper industry."


"The industry will continue doing its part in reducing energy consumption and heat pumps can play an important role in that. Combined with access to affordable fossil–free energy heat pumps will allow for a full transition towards a decarbonised and circular economy based on bio–products." Jori Ringman, Director General – Cepi (Confederation of the European Paper Industries)