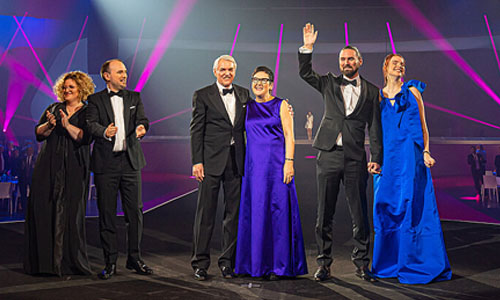 After 30 years at the helm of the company, at the turn of 2022/2023 Progroup founder and CEO Jürgen Heindl will be handing over the role of CEO to his son Maximilian Heindl, previously his deputy. Jürgen Heindl will be moving to the Supervisory Board and in the future will run JH Holding GmbH. His successor's clear aim is to continue to lead the family company with vision and expand it to secure its future.
Progroup celebrated this significant milestone with a ceremonial event in Leipzig on 5 November. It was almost 30 years to the day since the company's first corrugated sheetfeeder plant started operating in Offenbach an der Queich.
Inspirational past delivers developments for the future
"Exploiting the power of innovations has always been a key component of our success," said Jürgen Heindl in his speech stressing the importance of making long-term investments in sustainable, state-of-the-art technologies. You only have to look at developments today to see how visionary the concept of the circular economy is: "Society wants to move away from fossil fuels and save our planet from a climate catastrophe. It is therefore more vital than ever to preserve the environment and resources, recycle and reuse things. Just like we have always done at Progroup."
Continuing a successful model with real vision
His son Maximilian Heindl will continue with this approach. "Energy efficiency has always been and still is a major issue for us: with our highly modern and highly efficient machines we play a decisive role in helping to reduce emissions." Technological leadership will continue to make Progroup a pioneer in the industry in the future – and therefore a reliable partner to its customers and employees.
His brother Vinzenz Heindl will also be bringing his skills to the industry in the future. As the managing director of the Professionals Academy, the trained psychologist provides a platform for engaging on issues specific to the industry and family-run companies. The Professionals Academy is also part of JH Holding GmbH.
Politicians praise importance for Germany as a place to do business
As well as employees and their partners, the 2,300 guests who were invited also included customers and business partners.
Federal Minister for Digital and Transport Dr. Volker Wissing, the Premier of the State of Rhineland-Palatinate, Malu Dreyer, and the Premier of the State of Saxony-Anhalt, Dr. Reiner Haseloff, conveyed their congratulations in video messages. They emphasised the importance of Progroup for Germany as an industrial and business location. They also praised Jürgen Heindl's work and spirit of innovation.
In the Minister for Economic Affairs Sven Schulze (Saxony-Anhalt), a distinguished representative of the state government attended the celebrations personally. He highlighted the significance of Progroup as an internationally operating business for his state.
Growth story continues
The fact that Progroup is well equipped for the future is demonstrated by the company's ambitious national and international growth plans. The company's twelfth corrugated sheetboard production facility was recently constructed in Stryków, Poland. With its production capacity of 825 million square metres per annum, Stryków is one of the biggest corrugated board production sites anywhere in the world.
In the town of Petersberg in Rhineland-Palatinate, Progroup is investing more than 90 million euros in a new corrugated sheetfeeder plant that will be part of a sustainable packaging park. Production of corrugated board is set to begin here in 2023. In addition, further growth projects in France and Italy are in the final planning stage.