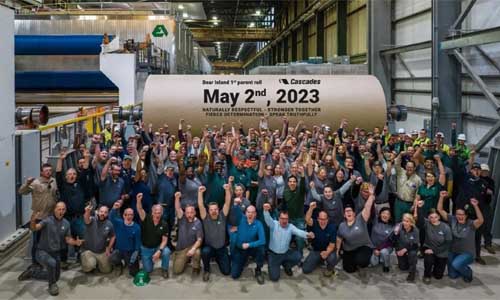 On May 2, Cascades announced that it produced its first roll of 100% recycled containerboard at the Bear Island mill in Virginia, United States. As previously announced, Valmet supplied an extensive paper machine-grade conversion rebuild for this mill.
With an annual production capacity of 465,000 short tons of lightweight, high-quality, 100% recycled containerboard, the 
state-of-the-art mill
is equipped to perform within the top quartile of its industry and will strengthen the operational flexibility, geographic footprint, and competitiveness of Cascades' Containerboard platform.
"The team at Valmet would like to sincerely thank Cascades for their trust and partnership with us on this conversion project," said Mike Gray, Vice President, Capital Business, North America, Valmet. "This start-up showcases our close collaboration and the innovative technology that went into making this project a success."
Cascades would like to thank all its employees and partners who made this project possible, a feat made even more challenging given the difficult global context of supply chain issues. This project was the second largest in Cascades' history, and we are very proud to have successfully converted this plant into a state-of-the-art mill that will allow Cascades to grow our market share and enhance service and our portfolio of sustainable solutions for our customers," commented Charles Malo, President and Chief Operating Officer of Cascades Containerboard Packaging.
Technical information about the delivery
The ~8,500-mm wide (fabric) containerboard machine PM 1, designed to produce newspaper, was rebuilt to produce high-quality, lightweight, 100 percent recycled linerboard and medium grades for the North American market. The Valmet delivery included a new headbox and sizer as well as modernizations for the forming section, press section, drying section, and reel.
In addition, Valmet has provided the customer with a wide scope of Automation and services including a Valmet QCS with two scanners for the headbox and many Service Agreements (e.g., Paper Machine Clothing, Doctor Care, PEP, SMP, Spare Parts, Refiner Plates, and Reliability Agreements).
"On behalf of our Project Operations team, I would also like to extend my gratitude to Cascades for their hard work and dedication on this project. Quality and safety were of the utmost importance and we're proud to have safely started up this rebuild together," said Kevin Lynn-Lato, Director, Project Operations, North America, Valmet.