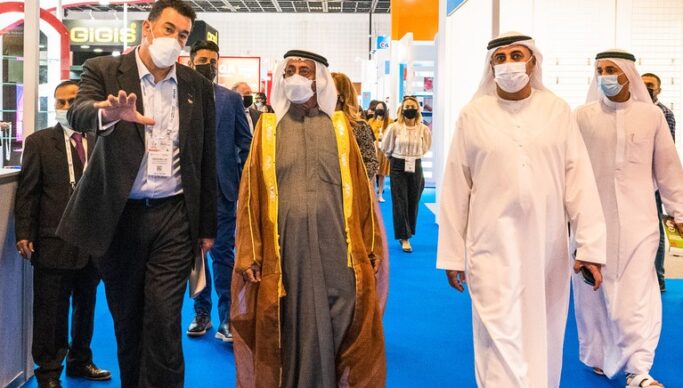 Paperworld Middle East and Gifts & Lifestyle Middle East, the dual trade platform for stationery, paper, office supplies, and children's toys and games; along with gifts, accents, and lifestyle products, concluded its successful run in Dubai, having attracted 5,182 visitors from 106 countries.
Together, the two exhibitions – Paperworld Middle East, in its 10th edition, and the debut of Gifts & Lifestyle Middle East – featured 200 exhibitors from 37 countries at the Dubai World Trade Centre from 14-16 December 2021.
The events also hosted the brand new Hub Forum, a two-day conference uniting industry experts, thought leaders, analysts in e-commerce, digital and sustainable trends to discuss and debate the way forward for these fast-evolving industries in a post-pandemic world.
"We are delighted with the industry response to both Paperworld Middle East and Gifts & Lifestyle Middle East; after what has been very testing times over the last 20 or so months, it's a great privilege to reunite our stakeholders and offer countless new business and networking opportunities," commented Syed Ali Akbar, Show Director for Gifts & Lifestyle Middle East and Paperworld Middle East.
"This year we stepped up our efforts to engage with exhibitors and encourage them to showcase their most vibrant offerings, and I think that really showed on the exhibition floor.
"So whether it was baby clothes and children's lifestyle products, stationery, school bags, writing instruments and creative supplies, or premium gifts and leather accessories, there was plenty on offer to entice regional trade buyers to think outside their traditional product portfolios and expand into new areas."
"The introduction of the Hub Forum similarly created a point of difference for delegates eager to expand their knowledge on how to navigate the current business environment," added Akbar.
Paperworld Middle East 2021 returned with the Playworld Village replete with children's toys and games; and Project Sustainability, a specially curated section that shines the spotlight on eco-friendly products and supplies.
The annual three-day event also hosted the brand new 'Artistry Workshops', welcoming art scholars, teaching faculties from art schools and other enthusiasts to learn and develop multiple creative skills including ancient Islamic calligraphy and acrylic painting workshops.
Organised by Messe Frankfurt Middle East, Paperworld Middle East 2021 featured regular long-time exhibitors including the UAE's Capital Envelopes, The Navigator Company from Portugal, Beaumont Group from France, WZ Eurocopert from Poland, and Japan's Zebra.
Regular and debut exhibitors alike expressed their satisfaction with the show, including The Navigator Company, an integrated producer of pulp, paper, tissue and bioenergy products, whose activity is based on state-of-the-art mills on a world scale.
"Our aim is to be a sustainable company and lead by example for our friends from the industry," said Catarina Novais, Head of Marketing at The Navigator Company.  "We're extremely glad to be back with face-to-face exhibitions and launched a new line of sustainable packaging, gKraft, which we look forward to distributing in the MENA region."
Meanwhile, trade buyers and visitors to the two shows were eager to see what was on offer.  Yousif Mohammad, and Entrepreneur that recently entered the sustainable stationery market, said: "This was my first time visiting Paperworld Middle East as I have recently ventured into sustainable production of stationery.
Paperworld Middle East and Gifts & Lifestyle Middle East will both next take place from 15-17 November 2022 at Dubai World Trade Centre.