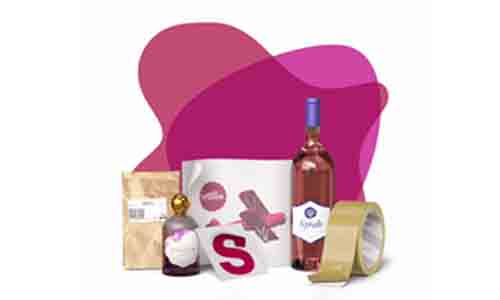 At FESPA Global Print Expo 2023, which is taking place in Munich from 23 to 26 May, leading provider of sustainable woodfibre products Sappi will be showcasing an exclusive selection of its high-quality papers in Hall B1, Stand C45. Under the theme "Maximise the visual impact of your application", the focus will be on sublimation papers, corrugated base papers and silicone base papers for a variety of self-adhesive applications.
Sublimation papers with improved qualitative properties
Fusion Embossed – a new addition to Sappi's containerboard range
Carrier papers with exceptional siliconization properties
FESPA is Europe's leading trade fair for screen and digital printing, as well as large format printing and textile printing – which makes it an indispensable meeting place for the industry.
In Hall B1, Stand C45, visitors will have the opportunity to experience Sappi's high-quality paper range in person and get advice on their diverse applications. Four lounge areas at the stand will be available to facilitate in-depth discussions. Claudia Pöckl, Marketing Communications Specialist at Sappi Europe, explains the motto of this year's fair:
"We opted for the theme 'Maximise the visual impact of your application', which clearly expresses what our papers from the three product areas we are showcasing have in common and what they have to offer. With a high-quality standard, they ensure that our customers' end-products benefit from the best possible visual impact."
Sublimation papers for digital transfer printing
In the field of transfer printing, Sappi has always offered its customers a wide range of sublimation papers specially designed for fast and uniform ink transfer with minimal ink consumption. With the help of various sample papers and printed end-products, visitors to the fair will have an opportunity to experience the advantages for themselves.
Sappi maintains the high quality of its sublimation papers by regularly investing in new, state-of-the-art technologies. At the end of April a new warehouse has been opened at the Carmignano mill in Italy. In the next month's, Sappi will further invest in two new converting machines with a width of 1.9 meters and 3.2 meters as well as in a fully automated packaging line. All the investments will support Sappi's vision of having a complete in-house solution for the sublimation industry, have a positive impact on CO2 emission, satisfy the increased demand of their customers as well as further improve lead times.
Corrugated base papers
Sappi offers a high-quality portfolio of coated and uncoated liner papers for lamination onto corrugated and solid boards, such as packaging or displays. With their printing and visual advantages, such as exceptional brightness, a high degree of whiteness, a luxurious glossy surface and reliable dimensional stability, the Fusion range of papers ensures exceptionally high impact in corrugated applications at POS while supporting manufacturers' brand strategies. At the trade fair in Munich, Sappi will be showing its brand new addition to the portfolio: Fusion Embossed, an embossed version of well-known Fusion Topliner and Fusion Nature Plus.
Silicone base papers as backing paper for self-adhesive applications
A third product group at this year's FESPA are Sappi's silicone base papers, or release liners, used as backing paper for self-adhesive applications such as indoor and outdoor advertising, car wrapping, adhesive tapes, office materials as well as architectural and building signs. Sappi will be focusing on its CCK with extraordinary good lay flat properties and Glassine papers at the show. They offer exceptional siliconization properties as well as easy and efficient processing, ensuring optimum separation between the backing paper and the respective graphic adhesive application. Also, Sappi's latest CCK development SOL BCK (Barrier Coated Kraft) will be introduced. The result: A perfect flat laying paper which could substitute a PCK.