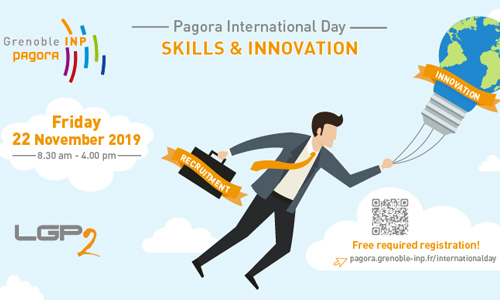 On Friday
,
November 22, 2019, after the Forum and before the Graduation, the Grenoble INP-
Pagora
engineering school and the LGP2 laboratory organize the
Pagora
International Day.
Th
is
event will bring together major international groups, SMEs/SMIs,
m
icrobusinesses, research laboratories, European
industrial organizations
and
h
igher-
e
ducation institutions. The day will be devoted to discovering, sharing
and comparing international viewpoints and practices.
This year,
Pagora
International Day focuses on
"
S
kills
& I
nnovation
"
.
The development of international skills is a growing area of interest for
economic players and higher-education institutions.
European and global R&D projects, international partners and customers,
the relocation of services, the need to manage multicultural teams and the
possibility of expatriation require employees to be more
flexible, efficient and productive, while adapting to cultural and organisational
peculiarities.
Aptitudes, skills, innovation
…
What are we really talking about?
What are the
latest trends? Are there models that perform well?
The first edition of
Pagora
International Day opens the debate on these topics with two round tables:
"Recruitment & Skills": Recruiting executives in a competitive international professional environment. What are the current issues? Which skills the companies are looking for?

"Partnerships & Innovation": Innovation and R&D. What are the relevant

models of companies, higher-

education institutions and labs partnerships?