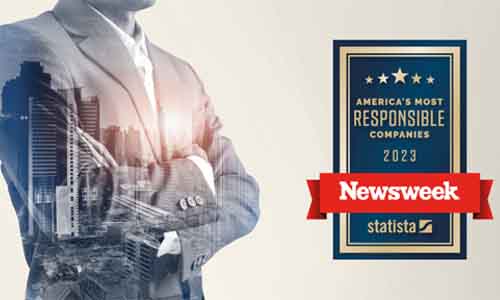 Kadant Inc. announced today that it was named one of "America's Most Responsible Companies 2023" by Newsweek magazine. This was the third consecutive year Kadant has been included on the list which assesses companies on various Environmental, Social and Corporate Governance (ESG) factors.
"We are pleased to once again be recognized for our corporate responsibility efforts and named one of America's Most Responsible Companies," said Jeffrey L. Powell, president and chief executive officer of Kadant. "Our focus on helping our customers accelerate their own sustainability initiatives as well as advance our internal programs remains a key priority driving our product and process innovations and technology solutions that enable Sustainable Industrial Processing."
America's Most Responsible Companies were selected based on publicly available key performance indicators derived from CSR Reports, Sustainability Reports, and Corporate Citizenship Reports as well as an independent survey. The KPIs focused on company performance in the environmental, social, and corporate governance areas, while the independent survey asked U.S. citizens about their perception of company activities related to corporate social responsibility. The list recognizes 500 companies across 13 industry categories with the highest scores as the most responsible companies in the United States.
More information about the 2023 rankings is available at www.newsweek.com/rankings/americas-most-responsible-companies-2023. All registered trademarks are property of their respective owners.