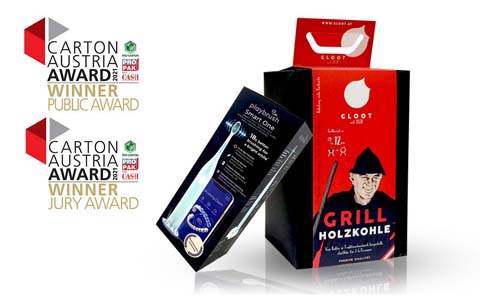 The winners of the Carton Austria Award (CAA) 2021 were honored in a festive setting on May 30th. The competition is a joint project by PROPAK Austria, CASH Handelsmagazin and Pro Carton. It brings the best Austrian cardboard packaging solutions onto the stage, and they're really something to be proud of! This time, both award winners come from Cardbox Packaging Wolfsberg.
The fall date of the award ceremony was canceled due to the pandemic and could finally take place. Two awards were presented: one for the jury and one for the audience. The jury consists of the editors of the CASH trade magazine. Horst Bittermann, President of Pro Carton, Martin Widermann, Managing Director of PROPAK Austria, and Claudia Stückler presented certificates and trophies for CASH.
The jury's prize went to "Gloot", a simple but extremely effective system for heating up charcoal. This easy and clean way to perfect grilling pleasure comes from brand owner Thomas Schiefer, who also accepted the award personally – together with Rene Buchart from Cardbox Packaging. The box is from BillerudKorsnäs.
The folding box can be transformed into a chimney in just a few simple steps, which invariably lights up the charcoal it contains, which is made using traditional methods of charcoal burning. The barbecue is ready in less than 15 minutes! On this, award winner Thomas Schiefer: "In my region there is still the traditional charcoal burner trade. The regional charcoal-burners produce high-quality charcoal. The packaging complements this premium product – for an enjoyable, relaxed grilling experience." The jury agreed: "A particularly elegant and convincing idea of ​​how the packaging can become part of the product."
The Audience Award went to Playbrush's "Smart One", the packaging for an exclusive smart sonic toothbrush, also manufactured by Cardbox Packaging Wolfsberg, using Metsä Board cardboard. An exclusively developed packaging was required for this very special toothbrush, which combines the necessary stability with a beautiful and functional design and presents the top product accordingly. In addition to Rene Buchart, Bettina Tschoner-Fuchs from Metsä Board and Nini Gregori and Moritz Hoyos from Playbrush were present at the presentation of the award: The entire supply chain was united to accept the award.
Since the introduction of the CAA, Austria has been the country with the most entries for the European Carton Excellence Award – and that will be the case this year as well. The submission for 2022 has already been completed, many strong and impressive concepts are waiting for your vote: Public voting will start at the end of July 2022, and Cardbox Packaging is looking forward to your votes again!