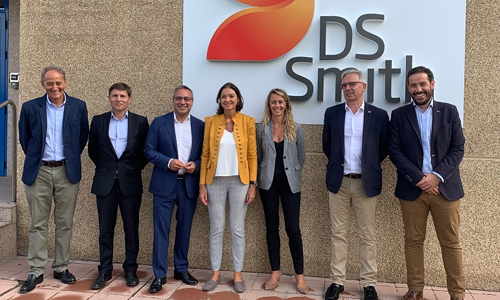 Acting Minister of Industry, Commerce and Tourism, Reyes Maroto, visited the DS Smith Dueñas Paper and Packaging site on 26th August.
Maroto was also joined by the Dueñas Paper Mill Manager, María Berzosa, and the Dueñas Packaging Plant Manager, Francisco Vidal.
In addition, the Sales Manager Iberia Packaging Division, Luis Serrano, the Deputy Government Delegate of Palencia, the Mayor of Dueñas and the Director of ASPAPEL (Spanish Association of Pulp and Paper Manufacturers) also joined the visit.
The two parties discussed the paper making industry, taking the opportunity to explore a stable energy regulatory framework, that would allow for long term cost reductions. In order for the Spanish paper industry to compete with increasing European standards, statutes must be aligned with the demands of a changing world.
This visit provided an excellent opportunity to raise awareness of DS Smith in Spain, the powerful role of the paper and packaging industries in a digital world, and the requirement for energy reform in our sector. — María Berzosa, Dueñas Paper Mill Manager
The minister understood the importance of the paper and packaging industries in a world that is evolving fast, and believes that DS Smith is a perfect example of a business with sustainability at the foundation of its overall strategy.