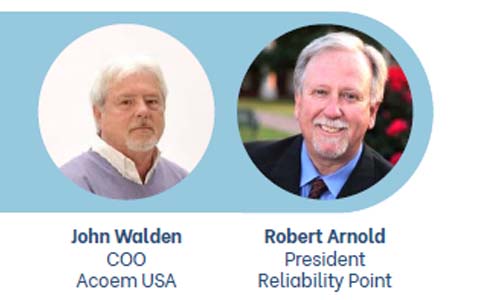 Acoem's vision of becoming the world leader in Industry 4.0 reliability solutions and services took another leap forward this week with the acquisition of the Reliability division of US asset Integrity and Reliability company, Reliability Point.
Reliability Point, under the leadership of its President, Robert Arnold, has been providing the US market with reliability based proactive maintenance and condition monitoring services and solutions from its headquarters in Baton Rouge, Louisiana for more than quarter of a century. Its close and productive working relationship with Acoem began over 20 years ago, through its distribution and use of VibrAlign-branded condition monitoring, shaft alignment and machinery diagnostics equipment. VibrAlign, now part of the Acoem Group, began serving the US market in 1983.
"Reliability Point and Acoem share the same long-term objectives and a common culture, with an emphasis on individuals, which makes this integration a natural fit," remarked John Walden, COO, Acoem USA. We have worked hand in hand with Acoem for many years and have gotten to know the Acoem family. Between our service capabilities and their future-focused solutions, together, I believe we have the best and most encompassing reliability offering on the market," remarked Robert Arnold, former President, Reliability Point, and now Director, Industry 4.0 Reliability Services, Acoem USA."
As a distributor and sales agent for Acoem solutions, Reliability Point has first-hand knowledge of Acoem's commitment towards broadening its service offering and leveraging digitalisation through Artificial Intelligence for augmented mechanics. Acoem customers also benefit from significant offshore maintenance analysis capabilities, in particular, through its professional network in India.
For Acoem, the decision to fold Reliability Point into the company was clear cut. It will allow the company to build its reliability service capabilities across the US, provide greater support to its customers, and work with a team that is highly experienced in digitised reliability solutions, automated diagnostics and remote access data analysis.