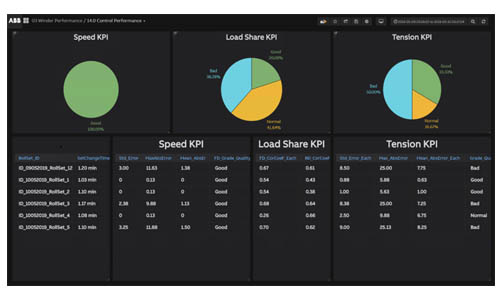 ABB's patented solution optimizes winder performance for improved availability, product quality and asset life.
Technology leader in digital industries ABB introduces Winder Performance Optimization, a digital solution for papermakers seeking to maximize asset performance, convert to different paper grades and/or increase machine speed, without replacing existing winders. The new solution works by benchmarking winder performance, implementing improvements, monitoring to sustain performance and—uniquely—further optimizing productivity by applying online calculations that continuously adjust winder acceleration and deceleration targets. This optimization aligns capacity to demands and can improve productivity significantly; recent implementations have provided 8 percent improvement. 
The benefits of optimizing existing winders are many. The solution is cost-effective and easy to implement – requiring limited or no shutdown of the winder.  Bottlenecks caused by larger, faster machines in the production process can be reduced and winder capacity maximized without compromising quality. KPIs are continuously monitored and analyzed to enable preventive maintenance and increased uptime. In regenerative mode, the solution feeds energy back into the system while decelerating winder drives, enabling mills to be more energy efficient.
"We understand the importance for papermakers to ensure their existing winders are able to handle demands of different grades, various roll orders with high quality and productivity improvement needs," said Shankar Singh, global product manager, ABB Digital Solutions. "Our goal with this product is to help mills get improved productivity out of their existing winders, without the need to invest heavily in new equipment. With several existing installations around the world, we are pleased that papermakers are already realizing the benefits of improved winder performance and productivity by utilizing our patented solution's unique ability to continuously adjust winder speed."
Further advantages of ABB Winder Performance Optimization include the ability to monitor and improve roll set quality, and improved utilization of machine reel capacity. Local and remote dashboards enable instant, straightforward data visualization, with advanced analytics and daily analysis of performance, control (speed, load share, tension) and roll set performance carried out by ABB experts. Customers also benefit from configurable alerts to highlight performance falling outside site-specific thresholds.
ABB Winder Performance Optimization is part of ABB Ability ™ Performance Optimization solution suite, whose offerings focus on maximizing equipment and process performance to ensure efficient operations.  The Ability™ platform enables structured monitoring and analysis of KPIs and drives system performance to make sure the winder productivity is maximized.