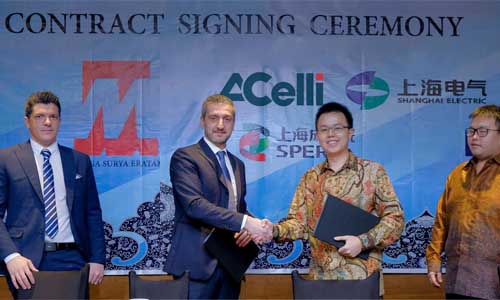 The Indonesian paper mill and manufacturing company chooses A.Celli for the end line of their new packaging paper production line to be installed in the Mojokerto paper mill.

PT Mega Surya Eratama and A.Celli signed a contract for the supply of full–optional end line solutions for the packaging paper production line located in Mojokerto, Indonesia.
The PM2 line in object will produce an average of 1,360 tonnes per day of testliner and medium corrugated with a width of 6,700 mm and basis weight ranging from 90 to 180 gsm, thus making it the most advanced and productive line in the country for this type of products.
A.Celli supply will include a PMT–designed pope reel, capable of processing rolls with a diameter equal to 4400 mm at a design speed of 1350 m/min, and our acclaimed E–WIND® P100 in the full–optional configuration.

Specifically, the paper rewinder, which will process reels at a design speed of 2600 m/min, will be equipped with an in–line unwinder and four in–line reel parking stations, an automatic spool parking, a web–in Slittomatic system for the automatic positioning of the slitting units
and, finally, tail and core gluing systems.

The considerable diameter and width of the Jumbo rolls to be processed make this production line, whose start–up is scheduled for 2023, a unique project of which A.Celli is proud to be part.