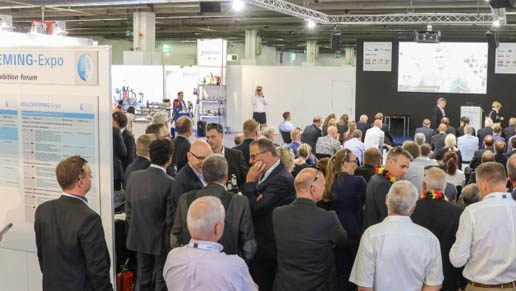 The ZELLCHEMING-Expo, the platform for the European pulp, paper and supplier industry, will feature a particularly comprehensive and high-caliber program of lectures on further training and new formats in the exchange of knowledge in Frankfurt am Main from 25 – 27 June 2019.  
Future-oriented lectures at a high level
In 2019, the exhibition forum at the ZELLCHEMING-Expo will be presented in a new look utilizing interactive, digital formats and a top-class lecture program.
A special highlight includes the keynote lecture by Charles Bahr, founder of tubeconnect, a social media agency that develops advertising formats for Generation Z.
At the Science Flash, young scientists from various universities will provide innovative insights into their scientific work. 
Expertise from practice for practice
The lecture program will be supplemented this year by practice-oriented seminars and workshops, for which the participants can acquire certificates. This gives them the ideal opportunity to combine further education, and yet still participate in the exhibition.
The seminars and workshops on the topics of occupational safety and energy, which are held in German by the two speakers Jörg Mauel, Mauel Sicher Arbeiten, and Bernd Maur, mbFlux GmbH, are aimed at a wide variety of target groups in the paper and pulp industry.
"We are delighted to be able to accompany the exhibition program with our seminars this year. With our current seminars on the subject of ISO 50001 and energy monitoring, we offer important support for everyday operations in a short but very informative way. Our aim is to show solutions from practice for practice", explains Bernd Maur, state-certified electrical engineer and trainer at the ZELLCHEMING-Expo 2019.
Guided Tours – first-hand information
Visitors who are interested in specific information on the topics of digitization, maintenance, drying, machine cross direction profiles and clean processes and who would like to get an overview of the exhibitors' offerings can register for the Guided Tours. These are included in the ticket price and enable visitors and exhibitors to get in touch with each other in an uncomplicated way.
Inspiring insights into the industry
New this year is the "Road of Maintenance", where companies from the maintenance sector are able to present their products and services in a targeted manner – at their exhibition stand and at the Showcase Arena with a live repair, a use case or a short lecture.
The focus will be on current topics such as the challenges of digitalization in maintenance, energy savings, downtime optimization, maximizing plant capability through preventive maintenance, outsourcing, avoiding oil leaks, TPM Total Productivity Maintenance, etc., which will be dealt with by the specialists on site.
Market overview of the latest trends and innovations
National and international exhibitors will present their know-how and expertise along the entire value chain of the paper and pulp industry. ABB Automation GmbH, Andritz AG, AS Drives & Services GmbH, Bellmer GmbH, Omya International AG, Valmet GmbH and Voith GmbH & Co. KGaA as an exhibitor.
Three-day event ticket now available in the new ticket shop
Visitors can purchase their three-day event ticket at zellcheming-expo.com/tickets. More information about the event and the highlights of the exhibition can be found at zellcheming-expo.com.