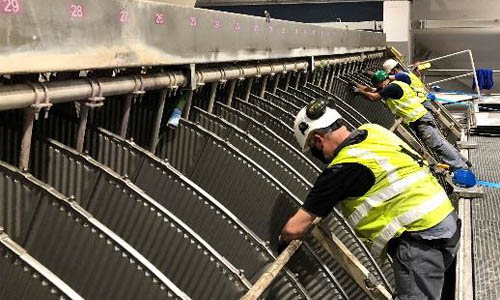 Voith offers a reliable and professional on-site disc filter refurbishment service to optimize disc filter performance, resulting in stable and excellent filtrate values and minimized solids content.
Disc filter performance determines the quality of the filtrate water and thus influences the operating costs of the plant. Especially in save-all applications in the approach flow process, optimized disc filter performance is of high importance to recover valuable fibers and obtain a filtrate with minimal solids content. To safeguard the vacuum levels, the vacuum valve connected to the central shaft is equipped with a seal. During operation, however, wear from the sealing surfaces with performance-reducing consequences cannot be avoided.
"Grinding the disc filter central shaft surfaces can optimize processes cost efficiently," explains Geert Tichler, Senior Product Manager Refurbishment Technologies at Voith Paper. "It also helps reduce water and energy consumption during ongoing operation. That's why many companies integrate our service to save operating costs while producing more sustainably."
Voith carries out the field service worldwide, whereby the size, type and manufacturer of the disc filter are irrelevant. The refurbishment restores the sealing surfaces of the central shaft with high precision, evenness and geometry. During refurbishment, the experts weld or metallize the worn areas. A machine specially developed for this purpose then grinds these surfaces to the desired geometry again with high precision. To ensure that refurbishment can be carried out in a short period of time in the event of a planned machine shutdown, it is important to plan maintenance in advance.
Further optimization opportunities with combined services
Based on many years of experience, customers benefit from further services, upgrades and maintenance packages, such as the Total Equipment Services, which can be combined with the disc filter refurbishment. To identify leaks in the central shaft, a water test is an ideal option. This is done by filling one side of the filtrate valve with water. Any leakage is thus quickly identified and repaired. Voith also repairs cracks in the central shaft, caused by incorrect operation, extremely efficiently. In addition, an added spacer ensures that the repair interval is extended.
Furthermore, Voith overhauls not only disc filters but also screw presses and vacuum pumps. Reconditioning is only a small part of the comprehensive maintenance service with which Voith supports its customers. There is also an upgrade service for the Voith CombiSorter CSM 12, CSM 12B, CSM 22, CSM 22B. In addition, there are many other customer-specific services for optimizing processes and implementing individually recommended measures to reduce energy consumption.