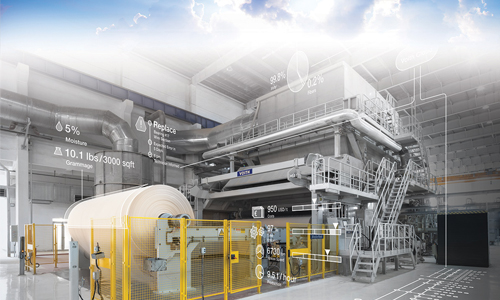 Voith is driving tissue production to the next level by showcasing its latest products, services and technologies at Tissue World 2020 in booth C10 from March 11 to 13 at the Miami Beach Convention Center.
Visitors can learn more about Papermaking 4.0 and Voith's state-of-the-art XcelLine tissue machines, as well as the company's extensive portfolio of machine components; fabric and roll systems; and tailored service packages. Highlights at the show include:
Voith's immersion simulator 
The Voith booth will feature an immersion simulator, which puts Tissue World attendees in control of the OnCumulus data platform. During an Augmented Reality (AR) simulation, attendees will see how OnCumulus collects real-time information from an XcelLine tissue machine, giving operators insights on how to improve aspects of the machine's performance and long-term efficiency. With AR, visitors can see how this technology can be utilized to gather, store and retrieve equipment information while on site. Via live demonstrations, attendees will access digital files linked to real-life locations, making such information easily retrievable by on-site technicians.
3D holograms offer a unique view of Voith products
Using 3D hologram technology, Tissue World attendees will interact with the designs of a variety of Voith products, including stock preparation and tissue machine equipment, as well as our latest in fabric and rolls technology.
XcelLine tissue machines from stock preparation to finishing
The tissue market is considered dynamic, innovative and future-oriented, and with the XcelLine tissue machine, tissue producers are positioned to meet the growing demands of the market. From MasterJet Pro T headbox to the perfect reeling of the MasterReel T, your tissue production needs can all be fulfilled through Voith as a full-line supplier.
Cost-efficient product and service combinations
Voith offers the ideal combination of products that work perfectly together to improve the tissue manufacturing process and maximize savings. For example, with the NipcoFlex T shoe press for tissue, up to 5 percent higher dryness can be achieved compared to a configuration of suction roll pressed against the Yankee or earlier shoe press generations.
Improved felt measurement and conditioning
With a functioning model on display at Voith's booth, visitors will get a hands-on look at ProTect, which increases safety during press fabric measurements. The system consists of a self-propelled carriage, fixture and traverse beams that ensure precise measurement of fabric moisture and permeability at various sites. It can be used with all commercially-available, manual measurement devices without endangering personnel.
OnSite Yankee service for safety, maintenance and service
With OTR Precise, Voith is offering tissue manufacturers a reliable technology for identifying deformations on the surface of a Yankee cylinder. The system uses a precise measurement of tensile force and a 3D measuring process to eliminate the influences of vibration producing a topographical map of the Yankee cylinder surface. This is done at a precision that sets a new benchmark for the industry.
"At Tissue World, Voith is showcasing real product solutions for intelligent tissue papermaking that improve efficiency, productivity, quality and safety," said Richard Berry, Senior Vice President, Sales FRS, Voith Paper North America. These are the core challenges our customers face, and we're proud to be the full-line supplier that is bringing tissue producers impactful, innovative solutions.