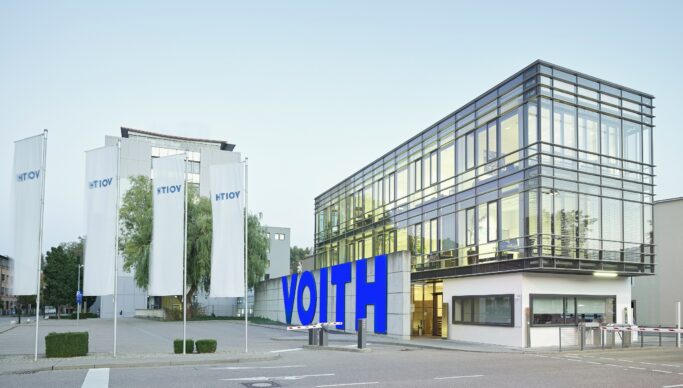 The Voith Group has published the 13th edition of its annual Sustainability Report for fiscal year 2021/22. The focus is on the sustainability strategy, resource efficiency and employee safety in the company's own activities. In addition, the Sustainability Report shows how Voith products and services help customers worldwide achieve their sustainability goals. "We want to make a measurable contribution to the sustainable development of the economy and society," explains Dr. Toralf Haag, CEO Voith Group. "To this end, we make our actions transparent and comprehensible through comprehensive reporting."
In the paper industry, Voith Paper sets the standards in the area of resource-saving paper production. As part of its Papermaking for Life sustainability program, the leading full-line supplier has set ambitious targets for 2030 to significantly improve its customers' carbon footprint:
100 percent CO2-neutral paper production thanks to energy-optimized products, digital solutions, disruptive concepts and the efficient use of renewable energies
90 percent fresh water savings thanks to a completely new papermaking process
90 percent recycling rate thanks to the development of new fiber streams
In total, Voith Paper invests around 100 million euros per year in the development of efficient and sustainable innovations. To drive decarbonization forward, Voith Paper is focusing on four areas in its research and development work: Voith Paper is continuously optimizing its existing product portfolio to reduce energy consumption. One example here is the newly developed InduraClean (IDC) product family. Depending on requirements, the focus of the modular cleaning technology can be placed on significantly increased production, energy reduction of up to 50 percent or vastly improved separation efficiency. On the other hand, digital solutions ensure improved process efficiency with reduced shutdowns, which also reduces CO2 emissions. In order to realize CO2-neutral paper production by 2030, Voith Paper is also working with partners on disruptive concepts that have the potential to reduce CO2 emissions by further 50 percent. The fourth R&D area focuses on using renewable energies as efficiently as possible and identifying suitable storage options.
Strong focus on sustainability also in own activities
As a family-owned company, Voith also feels a particular responsibility to avoid environmental risks and to use resources responsibly in its own operations. The company's commitment was confirmed by the independent rating agency ISS ESG, which again awarded Voith a premium rating of B- last year. This makes Voith one of the world's top companies in plant and mechanical engineering.
Over the past 10 years (2011/12 – 2021/22), Voith sites have been able to reduce energy consumption by 34 percent, water consumption by 44 percent and waste volume by 38 percent in relation to sales. In addition, all Voith locations worldwide have been climate-neutral since the beginning of 2022. Energy-saving and more efficient solutions were installed for this purpose. Voith also increased the share of renewable energies in the overall electricity mix from 38 percent in the previous year to currently 80 percent. In the same period, the company's own photovoltaic and hydroelectric power plants helped to generate 8.3 GWh of electricity themselves. As a result, the Voith Group was able to reduce greenhouse gas (GHG) emissions by 40 percent in fiscal 2021/22 and voluntarily compensated for the remaining emissions. By 2049/2050, emissions that are currently unavoidable are also to be reduced to a minimum.
In addition to ecological sustainability, social responsibility is a top priority at Voith. Closely related to this are occupational safety and health protection for Voith employees. With the help of safe workplaces and processes, accidents and work-related illnesses are to be avoided to the greatest extent possible. Thanks to a comprehensive occupational safety program, the number of workplace accidents in fiscal 2021/22 was reduced from 79 to 61 compared to the previous year. The frequency rate is therefore 1.6 (= number of occupational accidents per million hours worked). Voith is strongly focused on further reducing the number of occupational accidents to a minimum.
The Voith Sustainability Report 2022 contains many other examples, research and development areas, and projects examples that illustrate Voith's commitment to sustainability. The Voith Sustainability Report is now available for download on the Voith website. In addition, you can find more information about Voith Paper's sustainability program Papermaking for Life here.