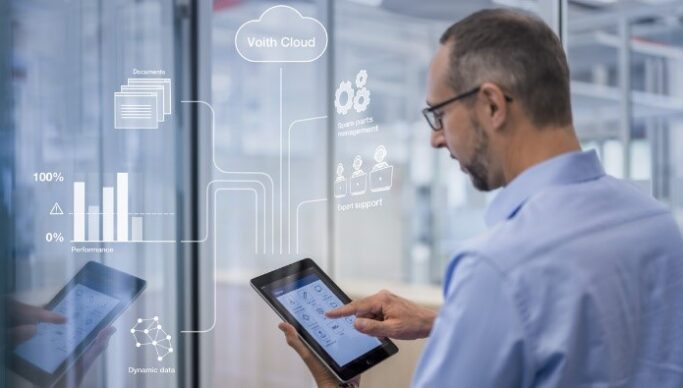 As a leading global provider of Industry 4.0 solutions and technologies for the pulp and paper industry, Voith is a crucial partner in supporting its customers to overcome availability challenges: "How can customers ensure the smooth operation of their papermaking machinery?".
Superior maintenance involves harmonizing three major pillars:
Qualified teams.
Streamlined and efficient procedures.
Tools and services that effectively support the papermaking processes.
To assist its customers in embarking on the digital journey towards maintenance excellence, Voith is launching the OnCare.Asset and OnCare.Health solutions.
These solutions offer a modular approach, allowing customers to manage maintenance for individual components or entire plants with the flexibility to implement them as required.
OnCare.Health provides features that extend beyond vibration measurement. The solution combines conventional vibration monitoring with intelligent data processing and papermaking data histories. Voith provides the complete solution, including wired and wireless sensors, along with user-friendly software that includes the monitoring histories for various plant systems, such as approach flow systems, press sections, calenders, coaters, and more. In addition to simplifying and speeding up diagnostics, OnCare.Health also facilitates maintenance troubleshooting.
The main features and benefits of OnCare.Health include:
Smart alarms.
Unlimited fixed and portable measurement points.
Notification by email or messaging apps.
History of viewed and acknowledged alarms.
Maintenance planning.
Additional benefits include remote support, stable information transmission and extensive data storage for a wide array of trend histories.
OnCare.Asset offers a solution for effective planning, performance tracking and maintenance management of all plant assets by seamlessly integrating maintenance and process data. OnCare.Asset enables papermakers to plan their maintenance in an integrated way, using cell phones or other mobile devices, and delivers crucial real-time data for informed decision-making.
In addition to supporting its customers' needs and goals, Voith's groundbreaking solution is easily adaptable. Therefore, papermakers can use OnCare.Asset either to replace their existing ERP systems and modules or integrate it as a front-end to these systems.
No matter the implementation model, customers benefit from a host of features, including:
Customized and user-friendly plant shutdown planning (monthly and annual).
Inventory reports of spare parts at the customer's plant or in transit.
Comprehensive service planning, from invoice generation to service completion, including tracking maintenance KPIs (MTTR, MTBF, faults, and load) at both component and plant levels.
Virtually unlimited capacity to store maintenance histories, encompassing reports, photographs and other data directly linked to specific components or plants.
Online access by all authorized staff.
Internal benchmark features: tracking of roll campaigns, spare part and consumable replacement times, including statistics, such as averages and deviations.
"The digital transformation is the next logical step after digitization. Machinery and operating histories will be interlinked, seamlessly sharing information. This will foster innovation and creativity in numerous areas, paving the way for the paper mill of the future," says Paulo Vloet, Service Manager at Voith Paper Brazil.