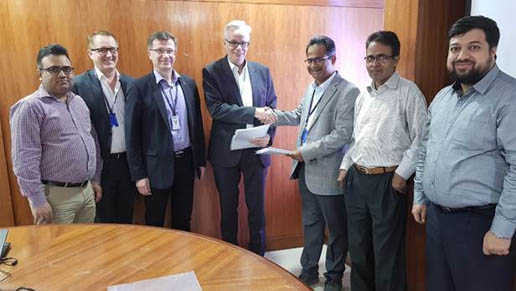 Valmet has made a strategic Value-Added Reseller (VAR) agreement for power generation and process industry automation with Fox Solutions in India. The purpose of the agreement is to strengthen Valmet's local automation customer support in India, the Middle East and Singapore. The agreement was signed in December 2018.  
Thanks to the agreement, customers in the market can be provided with turnkey automation deliveries, including instrumentation and electrification. In India, Fox Solutions focuses primarily on the power generation industry. In UAE and Oman, the company serves both power generation and process industries. In Singapore, the company is active mainly in the process industry sector.  
As part of their turnkey solution, Fox Solutions will sell the complete Valmet automation package to customers, including Valmet DNA hardware and basic Valmet software. Fox Solutions will also assemble the system, providing customers with any engineering and commission services required. Moreover, Valmet will assist Fox Solutions to train customers and provide any additional support needed. This means that more customers in the region gain access to Valmet's range of world-class automation solutions for power generation and process industries. 
Valmet's automation solutions are already well recognized in the power market in India, thanks to its large installed base through its technology partner Bharat Heavy Electricals Limited (BHEL), the largest supplier of power plant equipment in India. The agreement with Fox Solutions will extend Valmet's reach in the market. 
"The agreement is in line with Valmet's strategy to strengthen the company's partner business in automation in these regions. Fox Solutions has established a strong presence especially in India, but it's beneficial that they also operate in the Middle East and Singapore. Therefore, we see high potential in expanding our automation system business for the power generation and process industries with them as our most recent Value-Added Reseller," says Kari S. Heikkilä, Director, Partner Business, Automation, Valmet.    
"Fox Solutions looks forward to a long and interesting association with Valmet. We expect a high level of synergy from our mutually shared value systems, focus on technology, and customer centric approach," says Joy Aloor, Managing Partner, Fox Solutions.