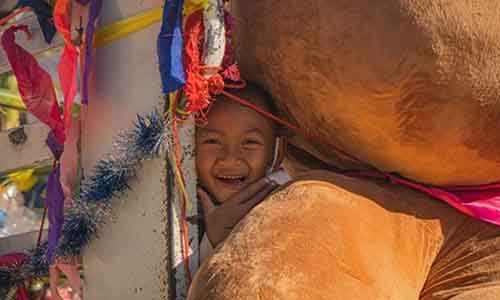 As one of the local projects under Valmet's social responsibility program, we have joined forces with The Mirror Foundation in Thailand to help children have better learning and living conditions in the country's northern Chiang Rai province. In January, we were invited to participate the National Children's Day celebrations at two local schools.
In Thailand, the National Children's Day is celebrated the second Saturday in January each year. During the day, we visited Pha Khwang Wittaya and Ban Thung Luang schools in Chiang Rai province and attended a special gift distribution caravan organized by the Mirror Foundation.
Laura Puustjärvi, VP, Sustainability, at Valmet participated in the celebration and was impressed for the work Valmet's local team has done together with the Mirror Foundation to improve the well-being and learning possibilities of the children living in remote locations in Northern Thailand.
In Asia-Pacific area, Valmet's social responsibility program's main target is to organize safe, clean water for children in three schools by renewing old water purifiers, improve current toilet and shower facilities so that children have access to safe sanitation and handwashing, and improve learning possibilities by repairing a deteriorated library in the Pha Khwang Wittaya school.
"Our renewed social responsibility program aims to increase the local impact of donated funds and open up more opportunities for Valmeteers to engage in the activities – and it is exactly what we have accomplished in Thailand so far. Organizing clean water significantly improves the hygiene level at local schools and having inspirational learning spaces can have a huge impact on the future of many children", Puustjärvi says.
Small things make a difference
In order to further improve the lives of children living in the rural area, Valmet Thailand employees initiated a supportive activity to Valmet's social responsibility program. Valmet colleagues and their friends were invited to donate toys, school accessories, hygiene products and other necessary items for children. The donations were collected and delivered to the Mirror Foundation, who prepared the gift sets in advance.
Leading Valmet's volunteer team was Natthawut Sriwanlop, Mill Sales Manager, SEA region.
​​​​​​​"Employees who have worked with Valmet can be considered to have a good quality of life, and we feel responsible for providing better opportunities to people who are not that privileged. Today, we don't know when the pandemic will be eradicated, whether there will be peace or war, and how many more days we have for the rest of our life. I am delighted and honored to be able to participate in this activity to help children who need it the most. It may be a small part, but I would like it to be one of the small lights shining on our planet", Natthawut says.