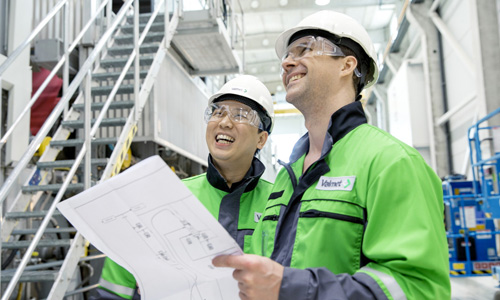 Valmet is planning a completely new, shared office building for its personnel in Järvenpää and Hakkila, which would be constructed in Tikkurila, Vantaa. The whole personnel of the two locations, except for the technology center located in Järvenpää, would move into the new building. Approximately 520 people, together with 130 employees of our partner companies, currently work at the Järvenpää site, and approximately 70 people work in Hakkila.
The Järvenpää and Hakkila personnel would be invited to participate in the space planning of the new premises. The building would be designed for Valmet's sole use, and it would be move-in ready in 2023.
"This planned new office building would be a significant investment in our personnel in Finland. Efficient and smooth collaboration and work satisfaction require modern, functional premises. For Järvenpää, in particular, it is time to move forward to a new era in this respect. We hope that our personnel affected by this matter will actively participate in designing the new premises to ensure that they will support our operations and our personnel's well-being at work in the best way possible far into the future. Tikkurila is a strongly developing and active district offering fine services and located at the center of excellent transport connections. As a location, it would serve our current needs and future goals in many ways," say Vesa Simola, EMEA Area President, and Aki Niemi, President, Services Business Line.
Valmet's current premises at the Järvenpää site are located in several separate buildings, some of which have been constructed in the 1970s.
For the Järvenpää personnel, the change of working location will require the processing of the matter through statutory labor negotiations, which have been started in Järvenpää today, on November 19, 2020. The planned move will not have any impact on the number of personnel.