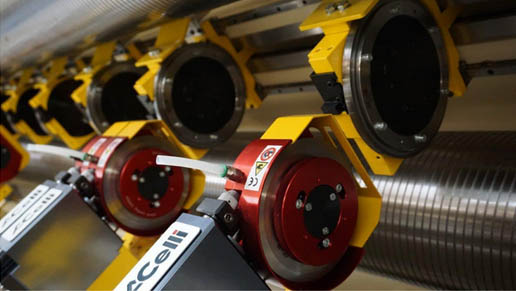 A.Celli Paper is pleased to confirm its ongoing and valuable collaboration with the Chinese group Shanying Huazhong Paper Industry Co., Ltd., enshrined in the agreement for the supply of two latest generation E-WIND® P100 rewinders, for the mill located in Zhangzhoi City, in Fujian province, China.
The E-WIND® P100 Paper Rewinders, highly developed in terms of design, will have a paper width of 6660 mm and will guarantee a maximum production speed of 2500 mpm (operating speed).
They are combined with sophisticated technological innovations including:
Innovative Slittomatic® double motor cutting unit positioning system;
Web-in technology, the automatic system that maximises the management of positioning cutting units without the need to break the web, with considerable time and safety savings for operators;
Jumbo roll parking station and shuttle (mobile trolley on rail) for their handling.
These two rewinders have been selected by the Chinese group to process medium board paper, with basis weight range from 80 up to 160 gsm.
Liansheng Paper had already purchased two other rewinders, with the same width, in 2016 and Shanying Group, of which the paper mill is part, bought two large-width paper rewinders (8 meters) from A.Celli last year.
An important new confirmation of a consolidated partnership between Shanying Group and A.Celli, which underlines the success of the paper rewinders A.Celli E-WIND®.