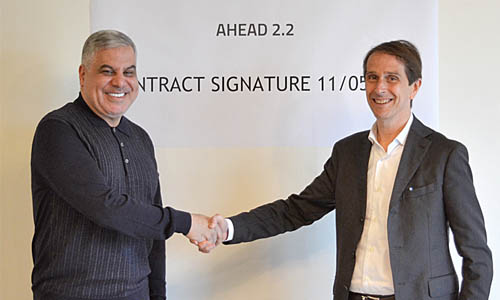 Toscotec will supply an AHEAD 2.2S tissue machine to Saudi Paper Group (SPG) at its Dammam paper mill in Saudi Arabia. The new PM2 will produce premium quality tissue from virgin pulp. The start-up is scheduled for the fourth quarter of 2022.
The AHEAD 2.2S line has a sheet trim width of 2,850 mm, a maximum operating speed of 2,100 mpm, and an annual production capacity of over 30,000 tons. Designed for top performance and optimal energy efficiency, the tissue machine is equipped with TT NextPress new shoe press design, a third-generation design TT SYD Steel Yankee Dryer with patented deckle head insulation, and high efficiency TT Hood.
The supply includes the stock preparation system and Toscotec's patented TT SAF® (Short Approach Flow) featuring a double dilution system that reduces electrical consumption to a minimum. The scope also includes Toscotec's proprietary DCS system, and one OPTIMA slitter rewinder. Toscotec will provide a complete service package with detailed mill engineering, erection supervision, commissioning, training, and start-up assistance.
Yousseri Abdel Hamid Abdel Aziz El Bishry, CEO of Saudi Paper Group, says, "Toscotec's AHEAD tissue machine will increase SPG's production capacity of tissue paper from 100,000 to 130,000 tons per year. It is a strategic expansion for our group, and we believe in the importance of equipping ourselves with leading-edge technology that will allow us to achieve our production targets with optimal performance and energy efficiency, delivering the highest quality to our customers."

Alessandro Mennucci, CEO of Toscotec, says, "We are very pleased to begin a new partnership with Saudi Paper Group. This project further strengthens Toscotec's position in the Middle East region. SPG will attain its objectives and fully benefit from the optimal performances, high reliability and energy efficiency of this AHEAD tissue line."