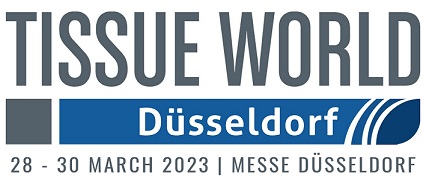 Europe's largest tissue trade show, Tissue World Düsseldorf, returns to Europe for the first time in four years at new venue Messe Düsseldorf from 28-30 March with a raft of exciting new product launches, demos and giveaways from its 110+ exhibiting companies, including the likes of IMA TMC, Eczacıbaşı Tüketim Ürünleri, EDT, Giotto Technologies – a Baosuo enterprise company, and more.
Tissue World Düsseldorf offers thousands of visitors an unrivalled opportunity to meet over a hundred market leaders showcasing the very latest innovations and technical solutions in the production of tissue paper, from raw materials, to stock prep, machinery suppliers, tissue converting lines, packaging and wrapping equipment, OEM producers and all suppliers involved in the production of soft hygiene tissue.
Tom Hill, Event Director, Informa Markets, said, "We are delighted to welcome so many exhibitors, including Tieto, Narsingh Dass & Co., Rulopak Hijyen Sistemleri and Paper Board Alliance to Tissue World this year – all are new to the show floor for 2023 – and a wide range of global brands returning including 9 Septembar, Valmet, Infinity Machine, C.G Bretting Co Inc, Buckman and many more.
"The event will be the first European Tissue World since the pandemic and comes at a very important time for the industry. The ongoing energy crisis has brought renewable projects to the fore, and the need to find a workable solution makes cooperating and sharing ideas invaluable. Tissue World Düsseldorf is an opportunity to find practical answers to questions on profitability and sustainability, by networking with and learning from market leaders and industry experts."
The Tissue World Düsseldorf conference runs alongside the exhibition and offers visitors the opportunity to attend carefully curated technical sessions, focusing on fresh innovation from tissue making through converting via all the processes and materials which count towards the competitive manufacture of world-beating tissue products. You can view the full agenda here.
The effects of the pandemic and the growing importance of sustainability in the global consumer tissue market are significant aspects for businesses to consider in order to tailor marketing campaigns, optimise the customer experience and guide strategic initiatives. According to Euromonitor International, consumer lifestyles and purchase decisions are increasingly leaning towards more sustainable practices. With consumer and government pressures to reduce environmental impact and increase production costs, the industry embraces circular business models and eco-friendly manufacturing practices and products. Developing a sustainable supply chain, reducing non-recyclable plastic packaging, and using alternative fibres are among the strategies adopted by the industry to respond to the changing demand. According to data from Euromonitor International, global retail tissue value is USD 89.7 Billion. Discover the game-changing effects of the pandemic and how sustainability plays a role in the global tissue market in a presentation from Ana Tique, a consultant from Euromonitor International, on March 28, 2023.
Several exhibitors will be showcasing brand new products at Tissue World Düsseldorf. You can view the full exhibitor list on the Tissue World website here.
Registration for the three-day exhibition is open now with early bird ticket prices available. You can register here.
Exhibition Pass: €25
3-day exhibition access
Converse with 125 exhibitors
Network with the global tissue industry
Exclusive hotel & accommodation offers
Access to happy hour & networking sessions
Access to show floor tech talks
Conference Pass: €1295 (Early Bird €895, available until 27 February 2023)
3-day Conference access
Access to keynote address
Access to technical sessions
Access to Tissue World exhibition
Access to happy hour & networking sessions
Access to show floor tech talks
Exclusive hotel & accommodation offers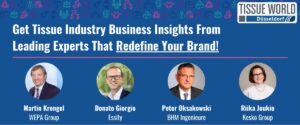 For more information, please contact:
Bonnie Simpson or Charlie Le Rougetel at mailto:twpr@bigtop-pr.co.uk and 07834 347644/07736 330676.