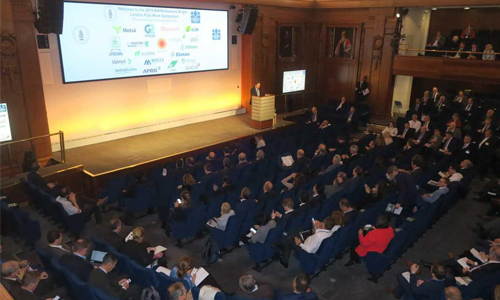 The London pulp week is always a well-attended professional and social event where C-level executives of the industry from Europe and beyond can connect, or reconnect and get a flair of where the market is taking them.
Beside the traditional black-tie dinner organised by the British Wood Pulp Association, the Hawkins Wright Symposium is one of the key moments of the week. This year, after the welcome address by Jin Asada, President of the BWPA, the introductory speech delivered by Roger Bootle, Chairman of Capital Economics and a prominent writer of economic literature, called the attention of the 300 delegates when announcing that the world should learn to live with a slow -growing China in the years to come. According to Mr Bootle, a 2% annual GDP growth should become a standard on the long run.
For his part, Oliver Lansdell, Research Director for Hawkins Wright, taking stock of the recent market volumes reminded that last September registered a record shipments figure due to restocking operations after a very low 2019, and 2020 may start with more than 1 million tonnes of surplus stock in inventory. This situation will affect pulp prices, and producers should see a deterioration of their margins.
On the production side, it appears that most of the capacity growth is behind us. Still, the current 2.7 billion USD project of UPM in Uruguay could be a game changer on the eucalyptus pulp market when starting up in 2022. Like explained by Bernd Eikens, Executive VP at UPM Biorefining this state of the art pulp mill will increase significantly the capacity of the Finnish producer with an additional 2.1 million tonnes.
Tissue products representing now 38% of the total market pulp supply, it was interesting to hear Luigi Lazzareschi, CEO of the Italian producer Sofidel, talking about his quest for better quality and more sustainable tissue. He insisted on the efforts made by his suppliers of machinery, packaging and raw material to help him reach his objectives.
The next event of the BWPA will be the Summer Symposium. And for those particularly involved in the Chinese market, Hawkins Wright symposium will hold its next Shanghai Symposium on March 19, 2020.