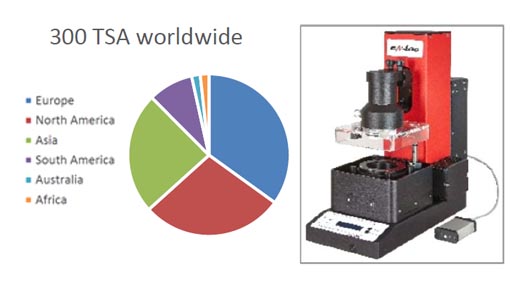 Many years ago, the handfeel of tissue paper, no matter if base tissue, toilet paper, facials or others, has been tested by human hand panels. Since this quality parameter became more and more important, the subjective and not always reliable enough hand test needed to be
replaced by an objective testing device, which can provide reliable and repeatable data.
The company emtec Electronic with its very innovative R&D Department is well known for finding customized solutions, and on demand, the development of the TSA started in 2004.
The first device has been sold to a tissue maker in 2007. Over the years, the device could be improved permanently and new functions were added. The TSA is able to provide the necessary data fast, accurate, reliable and repeatable. But even more important is, that it can
measure the three basic parameters which determine the human handfeel – the softness, roughness and stiffness.
Today, companies from all different parts of the tissue industry use the TSA in their R&D, process and product optimization, complaint management and marketing. Among the users are research institutes and universities, tissue machine manufacturers, chemical suppliers,
tissue makers and converters, but also retailers.