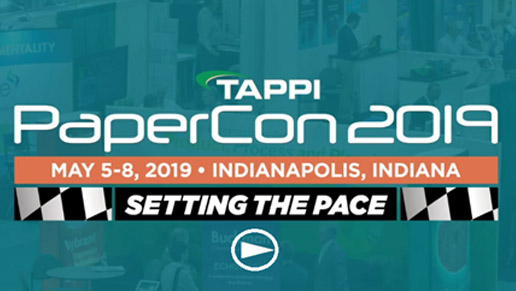 12th annual conference continues tradition of providing innovative solutions to contemporary mill challenges
TAPPI is holding its anticipated 12th annual PaperCon, May 5-8, 2019 in Indianapolis, IN, USA.

PaperCon is the world's largest technical conference for the paper and packaging industry, drawing mill and other industry professionals from around the world to learn new strategies, technologies, and processes.

Developed by technical experts and business leaders in the paper, packaging and nonwovens industries, the 2019 program includes topic-specific, peer-reviewed tracks : Papermaking Conversions ; Papermaking Additives ; Coating & Graphic Arts ; Process Control ; Papermaking Fundamentals ; and PIMA Management. Additionally, four major co-located events are also offered : Recycled Paperboard Technical Association (RPTA) ; NETInc (Innovative Nonwovens Conference) ; Reliability & Maintenance (TAPPI/IDCON) ; and the International Paper Physics Conference (IPPC). Attendees can participate in all five events with their single registration fee.

In addition to its superior technical program, PaperCon is also known for providing a platform for networking and building business relationships. Multiple social events, career advancement and training opportunities, roundtable discussions, and young professional sessions will be available.

PaperCon's keynote address will be delivered by Amy Blankson, co-founder of GoodThink Inc. Ms. Blankson combines the research of positive psychology with stories of real-world application in her presentations. She will give her perspective on how to raise levels of well-being and performance, while also providing attendees with actionable strategies for positive, sustainable change.

To learn more about special mill rates, program updates, multiple special events and receptions, exhibitor information, hotel offerings, and registration, visit paperCon.org.