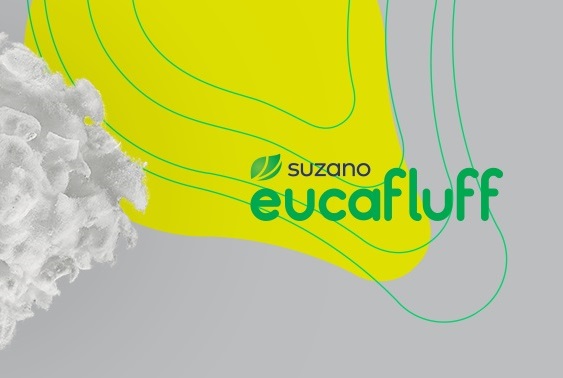 Suzano, the world's leading eucalyptus pulp and one of Latin America's largest paper producer, will be showcasing its highly sustainable and innovative fluff pulp, Eucafluff, at the China International Disposable Paper Expo (CIDPEX) on 29th – 31th July 2022. The convention is one of the key events within the tissue paper and disposable hygiene products sector.
Suzano believes in the power of eucalyptus to provide solutions to the environment's great challenges and was the first company globally to produce pulp and paper using 100% eucalyptus fibre on an industrial scale. Its Eucafluff product is the world's first eucalyptus fluff and offers a renewable-source raw material with a lower carbon footprint than most equivalent pine fluff-based alternatives.
Eucafluff, which is made from sustainably managed eucalyptus farms in São Paulo, is the result of nearly 15 years of R&D. It outperforms its competitors when it comes to rewetting, net retention, and comfort due to the morphology of Suzano's eucalyptus hardwood, which is smaller, thinner, and highly compressible. Its absorbent panels made with 100% Eucafluff allow for a product which is more flexible for consumers.
In keeping with Suzano's commitment to providing sustainable packaging solutions, products using Eucafluff require less packaging than pine fluff alternatives – one example of this is Eucafluff-based baby diapers, which use 14% less packaging. As companies increasingly seek more sustainable alternatives within their product supply chain, Eucafluff offers a solution which not only reduces the end product's environmental impact but also offers a thinner and therefore more discreet solution – essential in items such as diapers and feminine hygiene products.
Jeff Yang, Managing Director of Suzano Asia, commented: "We are hugely excited to exhibit at CIDPEX and to showcase Eucafluff as a sustainable, effective solution for participants worldwide. Demand is increasing to incorporate ESG best practice across the supply chain, and we feel proud of Suzano's position as a market leader when it comes to products which place sustainability at their core."
Suzano continues to expand its offering after another year of financial success. The R$19.3bn (US$3.86bn current FX rate) investment in its upcoming fossil fuel-free plant in Mato Grosso do Sul state will increase production capacity, delivering to its growing consumer base whilst meeting its sustainability pledges.
Suzano can be found at [B2B22]